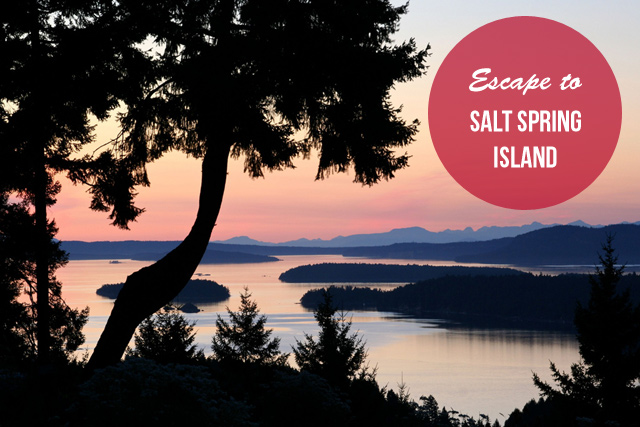 Between Vancouver Island and the mainland lies the Strait of Georgia, where a string of islands are strewn like emeralds. One of these gems is Salt Spring Island.
Part of the beautiful and idyllic southern Gulf Islands, Salt Spring Island is placed perfectly within a sun-dappled rain shadow. British Columbia's Gulf Islands are, geologically speaking, in the same archipelago as Washington's San Juan Islands, but the US / Canada border weaves its way through the water here, dividing the island gems between the two nations. If you've visited the San Juan Islands, you'll have a great idea of what to expect on Salt Spring: intense beauty, rocky beaches, lots of marine life, plentiful farm-fresh produce, loads of pottery and art, and a pace of life so calm and peaceful they even have a name for it – island time.
GET THERE
Most people travel to Salt Spring Island by ferry. From Vancouver, BC's Tsawwassen Ferry Terminal you'll cross to Salt Spring Island's Long Harbour, but not before stopping at three other islands first. It's a lovely crossing if you've got the 2.5 hours to spare for the boat ride. There are also two ferry crossings to Salt Spring from Vancouver Island (Swartz Bay and Crofton). See BC ferries for route information. If you're in a hurry and have the cash, fly to Salt Spring Island via float plane from Seattle on Kenmore Air. Remember, Americans will need a valid passport to travel to Salt Spring Island.
THINGS TO DO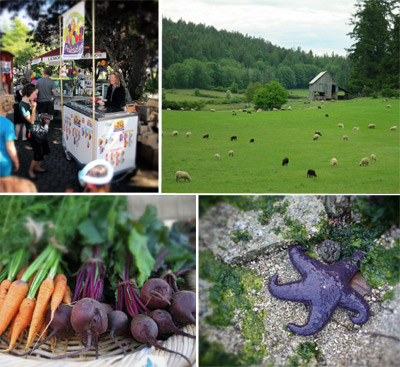 Taste the local bounty. Pull over to sample harvest goodies at roadside farmstands – it's a Salt Spring tradition! You'll pass them along most of the island's main roads, selling everything from homemade granola to fresh-made jams. If your trip falls on a Saturday, head to Centennial Park in Ganges for the Salt Spring Market (8:30am-4pm April through October) for fresh produce, pumpkins and lots of island art.
Tour the art. Rain or shine, see local artisans at work and shop their stuff on your own self-guided Salt Spring Studio Tour – plan your route at saltspringstudiotour.com.  The island is home to more than 30 art studios where you'll find beautiful ceramics, watercolors, woodcarvings and more.
Head for the water. Spot orca whales from your kayak in summer months, and in fall get a close-up view of seals, diving ducks and loons. Rent a kayak from Island Escapades (163 Fulford-Ganges Rd, 250-537-2553) and paddle the afternoon away in Ganges Harbour.
Take a hike. For the best view on the island, hike to the summit of Mount Maxwell (4.9 miles round-trip, 1600 feet elevation gain) passing giant old-growth trees on your way. This and 135 other trails in the islands of the Salish Sea are featured in the wonderful new guidebook, Day Hiking the San Juan Islands and Gulf Islands by Craig Romano, published by the Mountaineers Books.
WHERE TO STAY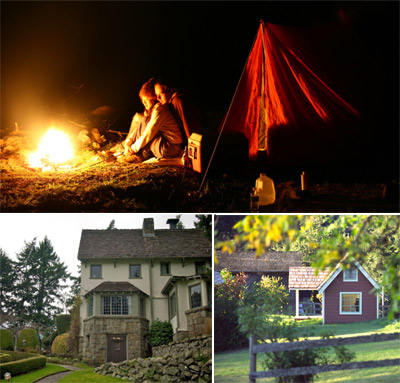 Salt Spring Island has a wide range of lodging options, from homey, affordable farmstays to upscale bed and breakfasts. You will for sure need advanced reservations in the summer months.
For a quiet retreat, book the self-catering suite in the woods at The Forest Loft (177 Dukes Rd, from $70). Your room is a bright, cozy and modern room on second floor with a separate entrance, kitchenette and private bath–a terrific value. Pets are welcome.
Get hands-on with the harvest at Foxglove Farm (1200 Mt Maxwell Rd, from $100, see reviews) a 120-acre organic working farm situated on one of the island's original homesteads.  Choose from three cute cottages, including one that's a log house and sleeps four.
For a splurge-worthy special occasion, Hastings House Hotel (160 Upper Ganges Rd, from $295, see reviews) fits the bill. Go when the landscaped grounds are in fragrant bloom and you'll feel you've stepped into the English countryside. Rooms have luxurious amenities like cozy fireplaces, down duvets, fluffy towels, soaking tubs and balconies for breakfast with a view.
Got a tent? Campers should head to beautiful Ruckle Provincial Park on the island's southeast corner where the majority of the 86 campsites are walk-in spaces nestled in forest, open meadow or shore habitats. This diverse landscape makes the park one of the most productive wildlife viewing areas on Salt Spring Island. From your tent pitched on the bluff, you can gaze straight out to sea in search of orca whales and sea lions. Down on the rocky shoreline, tide pools are filled with a bright palette of oysters, clinging sea stars, crabs and mussels. Reservations are not accepted for individual campsites at this park; all campsites are on a first-come, first-served basis. I've heard there's usually availability, even on prime August weekends, but it's always a good idea to have a backup plan in mind just in case.
WHERE TO EAT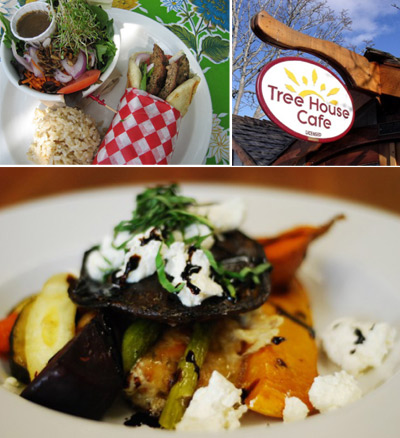 The Tree House Cafe (106 Purvis Ln) in Ganges is a must-stop for local flavor in a casual atmosphere, from curried tofu to teriyaki salmon burgers, all washed down with a pint of Saltspring IPA. Don't miss live music here on Friday nights.
Another great bet is Rock Salt Restaurant and Cafe (2921 Fulford Ganges Rd) where you can nosh on spicy potato & pea samosas or a plate of hand-made pasta with a view of the water.
For a nice dinner out, local foodies love the great wine list, homemade pastas and inventive dishes that feature fresh seafood right off the boat at Auntie Pesto's Cafe (115 Fulford Ganges Rd). They even have gluten-free pasta options.
IF YOU GO
Check the tide table – It's very important to plan your beach visits around low tides because Salt Spring beaches are generally inaccessible at high tide.
Local tourism information can be found at Salt Spring Tourism.
For exploring the trails on any of our Salish Sea islands, this new guidebook is indispensible: Day Hiking the San Juan Islands and Gulf Islands by Craig Romano, published by the Mountaineers Books.
Photos: Salt Spring Island sunset by

Cameron Birse

, fruitsicle stand by

Christopher Porter

,Sheep at Ruckle Heritage Farm by

Edna Winti

, sea star by

Matthew Scuby

, veggies by Ianiv & Arieanna, island camping by

Kevin Jaako

, Hastings House by

Rebecca Bollwitt

, Foxglove Farm red cottage from the inn, Tree House Cafe wrap and salad and the sign by

Ianiv & Arieanna

, Auntie Pesto's roasted veggies from the restaurant.