Dear TripFinder,
Q: We feel dizzy looking at all the great little towns and parks along the Oregon Coast, but we've only got two nights to make a sidetrip there this September (we'll be in Portland for a wedding). Can you recommend a small seaside town on the Oregon Coast where we can experience local beach culture without big resorts or crowds? Our preference is to rent a cottage rather than stay in a big hotel. Bonus points for recommending a nearby hike to tidepools, and seafood restaurant for dinner. Thanks!!
– Lionel & Jen from Chicago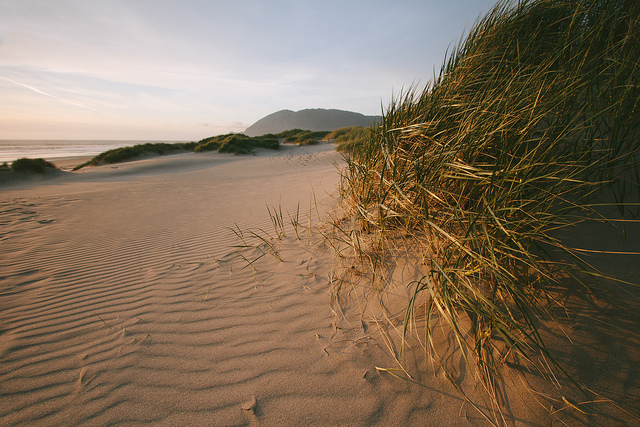 Dear Lionel and Jen,
The perfect place came to my mind as I read your question – you should go to Manzanita!
South of the uber-popular town of Cannon Beach is a quiet, laid-back seaside town called Manzanita, with beautiful beaches, lots of vacation rentals, good restaurants and very few crowds. Manzanita is just under two hours' drive time from Portland (click here for map + directions).
Here are my Manzanita recommendations to help you plan a 2-night trip there:
STAY: Manzanita has lots of vacation homes owned by lucky Portlanders, and many of these get rented out when not in use by the owners. Take your pick at Manzanita Rental Company, manager of more than 70 privately-owned vacation homes, from beachfront cottages to mid-century ramblers. TripAdvisor lists more than 100 vacation rentals in and around Manzanita.
Another option is the Coast Cabins, an upscale boutique inn with a sauna, fire pit,full kitchens and s'mores kits. And you can't go wrong booking a suite at the Inn at Manzanita, an independent inn with great views and service to match.
EAT: For a tiny town, Manzanita has very good restaurants. Sip coffee with the locals at Manzanita News and Espresso in the morning, and pick up sandwiches for a mid-day beach picnic at the Bread and Ocean Bakery. For a dinner of local seafood, go to the Great Northern Garlic Company and order a whole steamed crab.  Blackbird Restaurant is great for a nice dinner out with some wine. They features local mussels and oysters on their menu along with delicious dishes like kale salad and smoked duck.
DO: Most people come to Manzanita to do nothing. Well, except take very long walks on the uncrowded sandy beach. Just south of Manzanita's downtown, from the north end of Nehalem Bay State Park stretching 4 miles south to the Nehalem River jetty is a perfect stretch of sand for beachcombing. As you approach the river mouth you'll see (and hear) the large population of seals and sea lions that gather here.
As you might have guessed, all that sandy beach means no tidepools in Manzanita. Still, there are good tidepooling areas a short distance from Manzanita. North of Oswald West State Park is a tiny community called Arch Cape, where the somewhat hard-to-find beach access leads you to rocky structures and tidepools (you'll need to explore this area at or just before low tide).
Hope this helps! Enjoy your trip!
Got a burning travel question? You ask, we'll answer.
photo: by Scott McCracken
New to Northwest TripFinder? Discover more year-round getaways in the Pacific Northwest by subscribing to our email newsletter. You can also follow our #100NWTrips project on  Instagram.