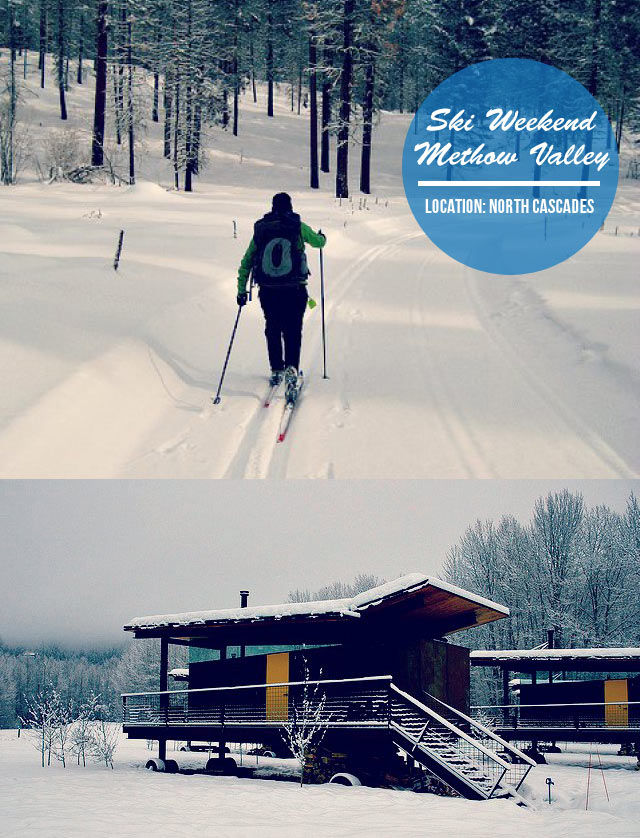 When you long to escape the mist and the moss of the west side for a real winter wonderland, go east.
The Methow Valley stretches like a slender finger into the heart of the North Cascades. Snow-capped peaks surround the valley, making for a postcard-perfect backdrop. Rolling hills and quiet pastures flank the winding Methow River as it tumbles through the valley's three small towns: Mazama, Winthrop and Twisp.
When it comes to tourism, the Methow doesn't have a real off-season. Fewer travelers come here in winter because it's more difficult to reach, but anyone with cross-country skis in the Pacific Northwest knows that this is the place to go!  The valley has more than 120 miles of nordic trails (groomed and ungroomed, easy to difficult) and they take you through farmland and forests, creating the nation's largest cross-country ski area.
Getting there: In winter, the North Cascades Highway (Hwy 20) is closed for the season, the exact date determined by snow accumulation, road conditions and avalanche danger. The average date of closure is November 26. When this route closes, the alternate route to the Methow Valley from Seattle is via I-90 east, then north on US-97, a 255-mile drive. Allow 5-6 hours for the trip from Seattle.
STAY: Calling all modernists! The six Rolling Huts (18381 State Route 20 in Winthrop, 509- 996-4442) sit near the bank of the Methow River, a cluster of compact glass and steel modern cabins that completely redefine the idea of "camping." The hut's furnishings are simple but functional (bring your own bedding), though all the important amenities are there—a fireplace, kitchenette, and spacious deck that face rugged Cascade peaks. Rates are $135. Pets ok, kids ok. Read reviews.
EAT: Watch the Chewuch River tumble past from your table at the Old Schoolhouse Brewery (155 Riverside Ave) in Winthrop. The menu is heavy on pub food like burgers, fries, fish and chips and hearty salads. Love dark beer? Try the coffee stout. Winthrop's Rocking Horse Bakery (265 Riverside Ave) brews an excellent cup of coffee and bakes loads of pastries fresh each day, from fruit tarts to buttery scones. You can also get more substantial fare like quiche and pizza. It's a terrific bakery with fast, great service.
SKI: For maps of cross-country ski trails in the Methow Valley, check out the Methow Valley Sport Trails Association website. Many of the valley's lodgings have nordic trails right outside your door. You can rent skis and ski gear at Winthrop Mountain Sports (257 Riverside Ave, 509-996-2886). To dress warmly for a day on the trails, check out our piece on how to dress for snowshoeing–it's basically the same. The ultimate nordic adventure is to book your stay in the Rendezvous Huts, rustic ski-in only cabins. 

photos: skiing in the Methow Valley and Rolling Huts by Patti & Jim.