Ready to hit the trails this winter? Having the right clothing on in the snowy backcountry can make all the difference between a miserable, cold day or a warm, comfortable day. This is true everywhere, but it's especially important in the Pacific Northwest where our snow tends to be heavy and wet, as opposed to the dry powder of the Rocky Mountains.
The most important things to remember are to avoid cotton completely (hence the outdoorsy mantra "cotton kills" – cotton doesn't wick moisture or dry easily, and could therefore lead to hypothermia) and dress in layers. Read on for more detailed tips on dressing for the snow!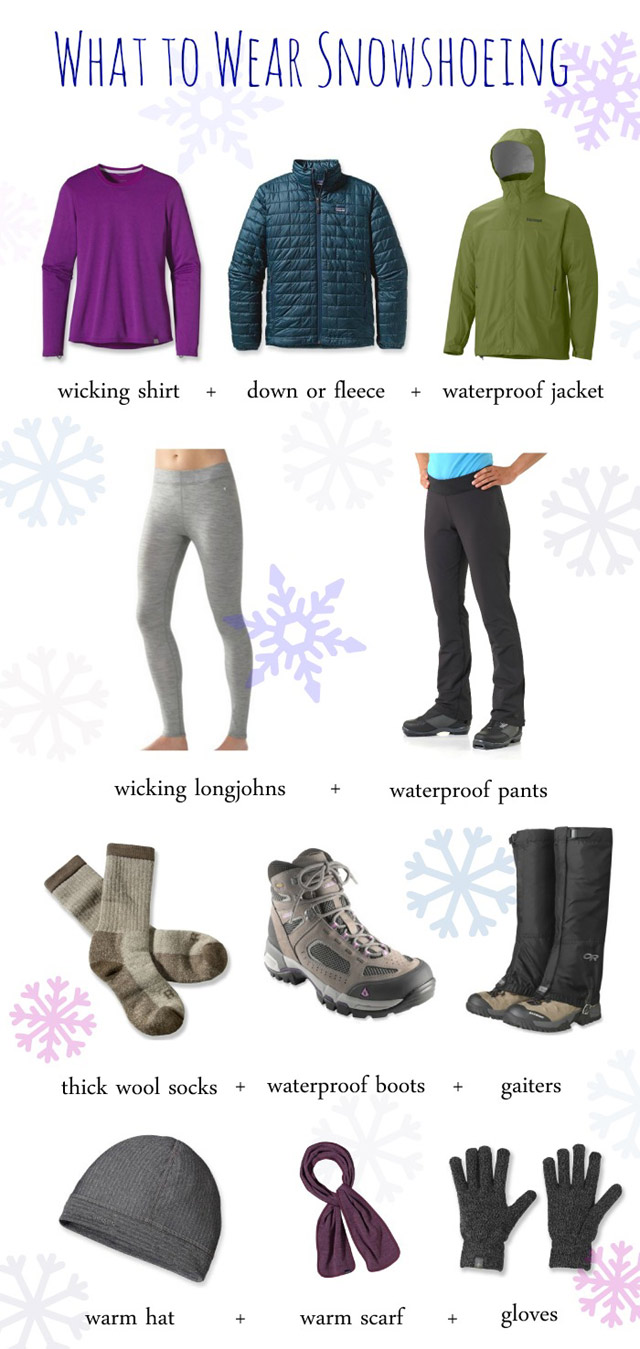 FEET: keep them warm and dry
Start with synthetic or wool socks (these Smartwool socks are awesome), not cotton. Some people like to first put on sock liners, a think sock made of silk, wool or polypropylene that adds a layer of warmth without adding bulk. Sock liners will also help with blister prevention. I tend to only wear sock liners with old-school rag wool socks like these, otherwise I skip them, but they are nice if your feet tend to get cold.
Wear sturdy boots, preferably waterproof hiking boots or snow boots. Do not wear sneakers, not even if they say they're waterproof. See, your footwear will become absolutely caked with wet snow, and you definitely don't want that icy moisture getting through your shoes. Waterproof boots are best. Many hiking boots are waterproof, like these Vasque boots. I wear these boots for both summer hiking and winter snowshoeing. You can also get high snow boots (like these by Sorel) that will give your feet and lower legs even more protection.
To make your regular boots even more snow-worthy, add a pair of gaiters. These Outdoor Research high gaiters are perfect for snow play and winter hiking.
CLOTHES: dress in layers
Start with a base layer of long underwear (not cotton!) on your top and bottom. The cheapest option is the old school kind of polyester long underwear you can find at almost any sporting goods store for around $10. I personally prefer a better fit and a higher-end material (like wool or Patagonia's Capilene), and I use the exact same base layers for hiking in the summer as I do snowshoeing in winter, so I get plenty of use out of them. Try these wool bottoms from Smartwool, or this Patagonia midweight crewneck top.
The next layer is for warmth. On top of your base layer, wear an insulation layer. I usually wear a fleece jacket or pullover, preferably one that is form-fitting and not bulky. My favorite insulation layer is this half-zip Patagonia Microfleece Pullover, which is super affordable at $69. On colder days, you might opt for a lightweight down jacket for this middle layer, but make sure it's not bulky. Patagonia (again, my favorite for middle layers) makes a really nice Down Sweater.
Your top later should be waterproof. Over your long underwear bottoms you want a flexible pant made for snow, like traditional ski or snowboarding pants (try The North Face Freedom LRBC Insulated Pants). On a budget? If your base layer bottoms are thick enough to keep you really warm, you could just layer on some breathable rain pants (while not cheap, I love my Marmot Precip pants because they can be used year-round). Whatever outer pants you choose, think about how it would feel if you fell in the snow, because that very well might happen. And again, no cotton!
Over your insulated layer up top, you'll want something water resistant, either a softshell jacket (try this fitted Marmot ROM jacket) or a basic rain parka (the Patagonia Torrentshell Rain Jacket is a great choice at an affordable price). 
The key is to wear layers that can be easily stripped off if you get too hot, and you might because snowshoeing is moderate exercise so expect to work up a sweat.
HEAD: keep it covered
In college I took a course in cross-country skiing where we were taught that a person loses most of their body heat through their head, a nugget of knowledge that caused me to purchase more winter hats over the years than I care to count. Turns out you don't lose that much more heat through your head than you would elsewhere on your body, but the fact remains that I feel much, much warmer in the cold outdoors with a warm hat on than I do without one.
In addition to a warm hat (this Patagonia synchilla hat is my fave) you'll want a scarf or neck gaiter, and gloves.  Pack sunglasses and sunblock as well!