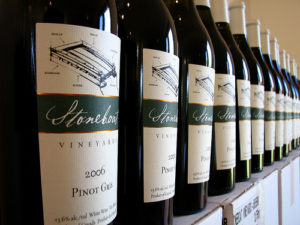 The region is stunning, and so are the wines. So why do American wine lovers have so few bottles from BC's Okanagan Valley in their wine cellars?
Sunset magazine covered the challenges of crossing the U.S. Canadian border with alcoholic goods in hand after a visit to British Columbia's Okanagan wine region. Here's the deal. If you're from the States and want yourself some Okanagan wines, you have to go to the Okanagan Valley and get it. I know, right? That's the bright side – for you. But for the dozens of little wineries that dot B.C.'s Okanagan Valley who would love to have their wines showcased in restaurants and shops throughout their greater region, the Pacific Northwest, this is a bit of a pain in the arse. Most of the wineries cannot even send orders to U.S. customers through the mail. According to the Sunset piece, U.S. Customs has put up a such a barricade of hoops for these wineries to jump through that sending their wines to the U.S. is almost impossible.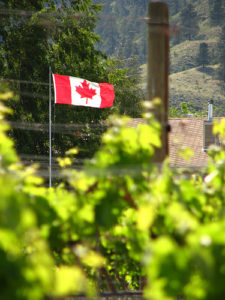 However, U.S. Customs permits travelers to physically transport wine back into the U.S. across the border in a car or airplane for a small fee, something like a quarter per bottle.  Thus, the trip you must make to the Okanagan. Oh, the tragedy.
The Okanagan Valley stretches for 155 miles north of the Washington state border and is dotted with warm sunshine, sparkling lakes, orchards, vineyards, and charming towns. It is B.C.'s oldest  grape-growing region, but has really grown its numbers of vineyards and wineries just in the last twenty years or so. Interestingly, not all of the Valley is classified as a "cool-climate" grape-growing region; many distinct micro-climates occur throughout the OkanaganValley. In the south, sandy hot soils are great for Merlot and Cab, whereas in the cooler north part of the Valley, clay soils grow grapes for wines like Riesling and Pinot Noir.
As for my upcoming visit to the Okanagan valley, I'm hoping to start near the Washington state border crossing at Osoyoos, head north to Kelowna then loop south through the Kettle River Valley to return back to Osoyoos. So far, I've had lots of luck locating potential cheap sleeps throughout the Okanagan Valley in preparation for a family trip there. I've got three spots picked out, but I haven't yet made reservations so if you have a recommendation where my family should stay, please leave a comment or drop me an email and tell me about it.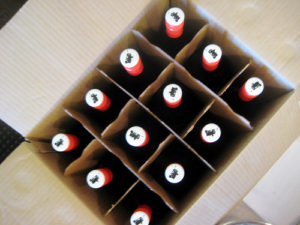 Haynes Point Lakeside Bed and Breakfast, Osoyoos. Perhaps it is the promised 100+ species of birds that have been sighted at Haynes Point, or maybe it's the healthy, delicious breakfasts with cardamom coffee… but more likely it's the terrific reputation June and John Wallace has earned over the years for their bed-and-breakfast on the south end of the Okanagan Valley. The spacious Roses Room is just $95 (all prices Canadian) off-season / $125 summer season, double occupancy and includes breakfast.
The city of Kelowna has nearly 100 bed and breakfasts. For real. But the Mission Creek Country Inn caught my eye for two reasons– they have their own flock of sheep, and their breakfast features home-grown eggs! Set on 36 acres of nature and farmland, the B&B is in a restored 1909 farmhouse, and it's just 10 minutes from downtown Kelowna, Okanagan Lake, and dozens of wineries. Oh, and one more reason this place caught my eye is the price. A room here is about $80 double occupancy, and includes that home-cooked breakfast. 1 (877) 860-1909.
There is a particular hotel in the Kettle River Valley that has my captured my curiosity. The Hotel Beaverdell claims significance as the oldest operating hotel in British Columbia, and first opened its doors to business back in 1901. $70 a night double occupancy.
Planning a wine-tasting trip to the Okanagan yourself? Be sure to download Sunset's Okanagan Winery Map and Guide, and bookmark this blog from Canadian wine columnist John Schreiner.
Photos top to bottom courtesy of Stoneboat Vineyards, Carlitos, and Megan Cole, via Flickr.