Saturday was almost hot. As a matter of fact, I saw some people walking around in shorts. But on Sunday, Seattle was tossed back again to May temperatures and cloud cover. When the tide hit its low at mid-day, we made a beeline for the beach by our house at Seattle's Lincoln Park. It was there, just in time for a momentary sliver of sunbreak through the clouds, that I happened upon this delightful umbrella.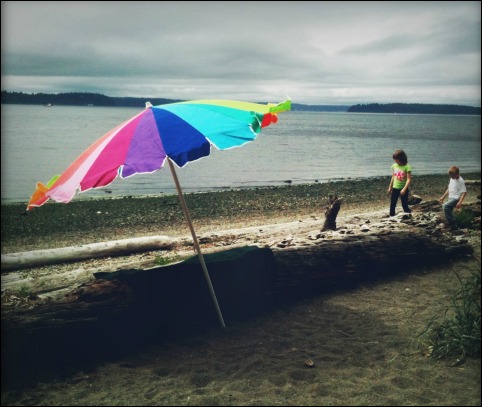 Then, it was back home and back to work. Isaac hit the sandbox. Brian took his laptop to the hammock. I settled in for an afternoon of photo uploading and emailing. Just one more week until we launch the new website, I thought. Then, we can travel once again!
It was probably more than a year ago now that I met one of you for the very first time, one of you wonderful local travelers and regular readers of Northwest Cheapsleeps. You will know who you are once I tell this story. See, you told me something that I just couldn't shake. You told me that you loved reading my blog, a lot, but that it could be slightly more useful. You told me that you sometimes found it difficult to locate content for specific regions when planning trips. I remember now–you wanted to go to Long Beach, and you came to my blog and there in front of you was a story about Whidbey Island. And you said, now I want to go to Whidbey Island. But wait, where do I find all of your content about Long Beach?
And that's when it hit me. My content needs to be on a map.
And thus, my idea for a website redesign was born. And now, it is almost ready. It's called Northwest TripFinder, and I really, really hope all of you regular readers will like it. Having read through the survey results from the past few weeks, I am happy to guess that most of you will.
It's been a lot of work, and not just for me. My husband Brian, who is not a programmer, has been crash-coursing in PHP and CSS to help program tweaks to various wordpress plugins in order to create the website I'd dreamed up in my head. And yes, it has maps!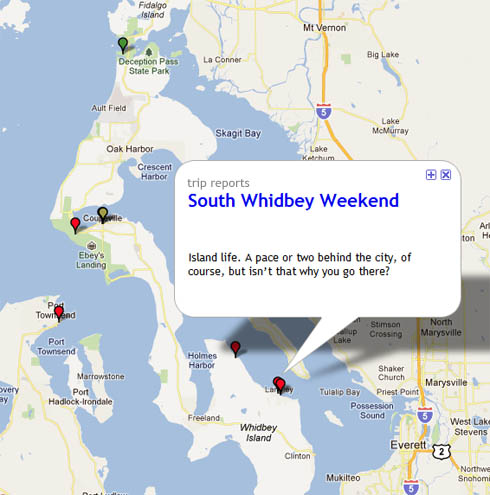 So, what's changing?
The map-based interface is the big change. All of our content is organized and discoverable by geographic region. Each region has its own dynamic map and related content on what to do, where to stay, where to eat and more. You'll continue to find my Trip Reports for inspiration. Some of our favorite local bloggers are hand-picking their top recommendations for attractions, restaurants and hotels. And Northwest TripFinder's sponsors offer more suggestions on places to stay and things to do – many offering special deals and discounts found only on our website.
Our budget travel blog, Northwest Cheapsleeps, will be a main part of the new website. Northwest Cheapsleeps has helped thousands of local residents plan affordable getaways. It will continue to bring you budget travel news, features, lodging ideas and more. Tasting Cascadia is our new blog about local food, wine, restaurants, markets, foraging and just generally enjoying the wonderful bounty of our great Pacific Northwest states and British Columbia. Perhaps you have noticed my incessant blogging about cideries and farmer's markets of late? That's the kind of stuff we'll be covering for Tasting Cascadia.
As time goes on, we can't wait to add more interactive features, more engagement with our website users and contributions from readers. From you.
Give me another week, and I'll give you the link to the new website. As soon as it's live and ready, you'll know it.
Until then, I hope you're having a wonderful summer.