Newsflash! There is more to budget lodging in PDX than the Ace Hotel Portland
!
Matt Gross, the frugal travel writer for the New York Times, published his ode to the rose city in May  (Frugal Portland). Where to stay? The Ace Hotel. Sunset magazine's travel blog dishes on bargain digs. Where to stay in PDX? The Ace Hotel. OK! We get it! We hear you! Stay at the Ace Hotel
! If, that is, you can snag a room (they book out.) And, if you don't mind sharing a bath. For $125 a night.
I've posted about cheap sleeps in PDX before. Yes, the Ace Hotel is on my list, too. But, I've got a new place to add to the mix. It's not hip, or modern. And it's not downtown. But it's cheap, on a bus line, and offers real hospitality.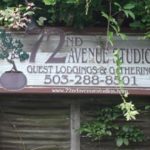 The 72nd Avenue Studios came to my attention from a friend who'd stayed there years ago. You should check it out for your blog, she told me. And a few weeks ago, we finally did.
The studios (there are two of them) are in a 1914 bungalow in the Northeast neighborhood of Roseway, just off Sandy Blvd and around the corner from a shop that sells homemade donuts. Never heard of the Roseway neighborhood? I hadn't either, and there's not a whole lot there. Well, except for the aforementioned donuts, which I highly recommend, and the Grotto, which is actually pretty cool. But it's just a short drive (or bus ride) to Northeast neighborhoods with pedestrian-friendly centers like Hollywood, Beaumont, or Hawthorne.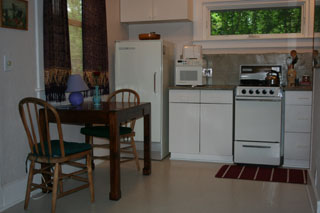 We stayed in the front studio, which rents for $75 a night. The middle studio, slightly smaller and with a less-equipped kitchen, rents for $70 a night. Upon our arrival, the studios' owner, Peggy Sullivan, greeted us warmly and gave us the basics on the neighborhood, the studio, and her lovely garden and patios, which guests are welcome to use. Peggy is a garden designer, and her hosta-framed patios and gazebo with woodburning fireplace out back are just lovely.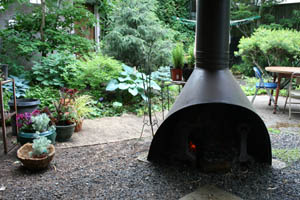 Our kitchen was equipped enough with all the basics to cook meals – from a french press coffee maker to iron skillets to wine glasses and a corkscrew. We had a table and chairs to dine at, a queen bed to sleep in, two comfortable easy chairs to watch TV from (there is a dvd player), and a bathroom with shower. These studios are a great value.
Children welcome (at least ours was!) but no pets. Two-night minimum. Reserve with Peggy at 503.288.8501 or email innkeeper@72ndavenuestudios.com.