Posted: October 1, 2013 9am PST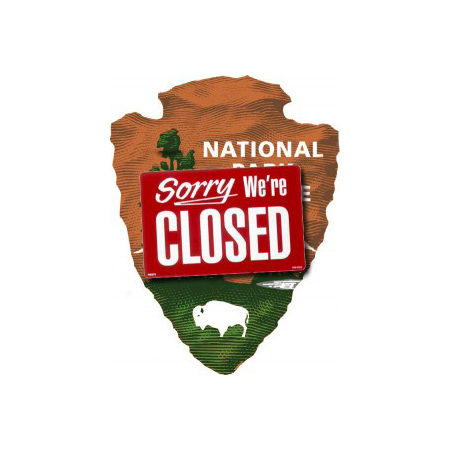 Got camping permits to backpack into Yellowstone National Park this week? You might want to make other plans.
Planning to go see vibrant fall color at Mount Rainier? Sorry.
Spending some crisp October nights at the historic Crater Lake National Park Lodge? Good luck.
The United States Government has shut down, and that means federal lands have shut down, too. Here's what it means for your Pacific Northwest travel plans, in effect until Congress passes a budget and the government goes back to work. It could be a day, it could be three days, it could be a week or more, so be prepared to change your plans. (Hey, state parks are open!)
What Lands are Closed?
Among the many impacts of the US government shutdown is a big one for tourism – the National Park Service has closed more than 400 national parks, museums and sites across the country.
Parks closed in the Northwest include: Mount Rainier National Park, Olympic National Park, North Cascades National Park and Crater Lake National Park.
The closures also include national monuments: Mount St. Helens National Volcanic Monument, Oregon Caves, Lewis and Clark and the John Day Fossil Beds.
Are they really closed? Yes. The roads operated by these parks will be chained off, visitors centers will be closed and campgrounds will be closed. If you have backcountry permits for a national park, your hiking trip is likely cancelled.
The closures include other federal lands, as well.
Forest Service visitor centers are closed. Many FS campgrounds are closed, too, though some operated by concessionaire will stay open.
National Wildlife Refuges are closed. Bureau of Land Management (BLM) lands are closed.
Got lodge reservations? Some National Park lodges that are within boundaries of a park operated by concessionaires will require guests to vacate within 48 hours, so if you have reservations anytime in the next few weeks you should call immediately to check on the status of your reservations! Lodge closures include: Crater Lake Lodge, Paradise Lodge and Longmire Lodge at Rainier, Kalaloch, Crescent Lake and Sol Duc Hot Springs Resort in Olympic National Park.
Lake Quinault Lodge is outside of the national park and thus unaffected by the shutdown. Timberline Lodge at Mount Hood will also remain open.
See for yourself– even the National Parks Service website is closed: www.nps.gov.
The National Parks Conservation Association is lobbying to keep parks open – learn more here.
Image via upadowna.org