Set on the south bank of the Willamette River just southeast of Newberg is one of Oregon's best kept secrets.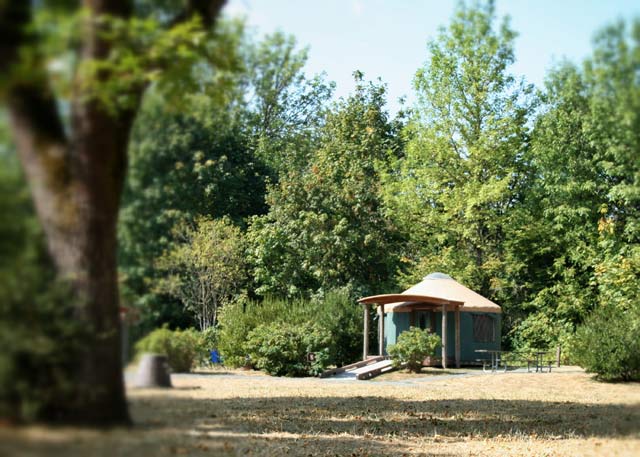 When we stumbled upon Champoeg State Heritage Area during a day of Yamhill Valley wine tasting, I instantly wanted to curl up in one of their adorable yurts and listen to the bluebirds sing outside my window.  Pronounced "sham-poo-eee," this park is known as the birthplace of Oregon. This is the site where Oregon's first provisional government was formed in 1843-–hit up the interpretive center and log cabin museum on-site for a history lesson. Hiking and biking trails criss-cross the park, and open grassy fields invite you and your frisbee. And with a smattering of yurts and cabins in a natural meadow dotted with massive oak trees, you can comfortably spend the night among all this nature year-round.
My favorite seasons to visit Champoeg State Heritage Area are spring, when the air is filled with the songs of migratory songbirds, and fall, when the oak leaves that turn to burnt orange, painting an autumn palette that just begs for an evening campfire. Summers are wonderful too, of course, though more crowded. Be sure to bring a berry bowl for picking fresh blackberries in August!
Location: Willamette Valley wine country just southeast of Newberg, Oregon
Distance from Portland: 30 miles (map + directions)
Great for: Wine lovers, bike riders and history buffs
Reservations: 1-800-452-5687 or online.
Rates: Tent sites are $19. Full-hookup sites are $24. Rustic cabins are $39, yurts are $36.
Take a bike ride: Take a scenic, carbon-neutral tour of wine country–on a bike. Camp here and bike the Willamette Valley Scenic Byway (map). The northern section departs from Champoeg and winds its way south towards Salem and beyond, passing through rolling hills and by scenic vineyards. A good route from Champoeg is to bike to Willamette Mission State Park and back for a day trip. Stop to taste some Pinot Noir at wineries near Willamette Mission State Park. Try Arcane Cellars at Wheatland Winery (22350 Magness Road NW) and Strangeland Winery (8500 Hopewell Road NW).
You'll know you're in for something special when you arrive at Champoeg State Park for your camping getaway; it's in a beautiful prairie-like setting on the south bank of the Willamette River in the heart of wine country, and it's also chock-full of Oregon history.
More info: oregonstateparks.org / 503-678-1251