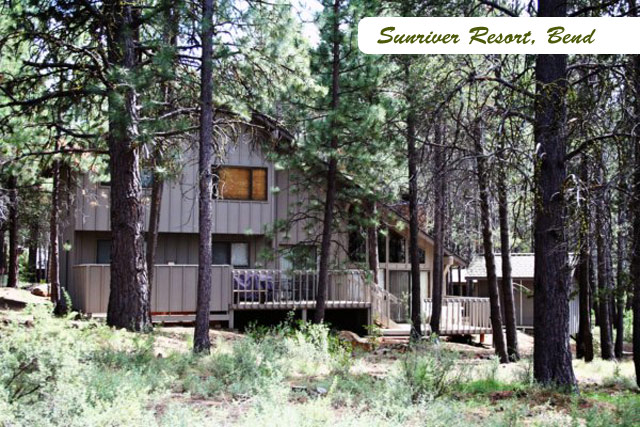 Looking for a fun alternative to a hotel, but dislike the lace and frills of a traditional bed and breakfast? There's another lodging option you can book with the click of a mouse–the vacation rental.
From rustic mountain cabins to deluxe oceanfront condos, vacation rentals often come loaded with perks and might even save you money.
Not all vacation rentals are second homes, but many are. This can make for some interesting experiences as the vacation home renter. You might open a dresser drawer to find someone's spare nightie, or experience cruel disappointment when you discover the home owner's idea of "morning coffee" is instant.
But there may be surprising benefits, too.
Loaded with Perks
We once booked a vacation cabin near Lake Wenatchee with a colorful hand-tiled shower that was truly a work of art. A loft we rented on Orcas Island was the second story of an active pottery studio and we had a chance to watch a potter in action. You'll probably find a vacation rental's kitchen to be fully-stocked, which is always a plus when you forget to pack the salt and pepper. And if you love to try new board games, the average vacation home has plenty.
A friend of mine, Seattle author Lyanda Lynn Haupt, regularly books her family's local getaways through VRBO where she recently found a deal on a cabin at Spring Creek Ranch in Winthrop. She described it as beautiful, rustic and well-designed for a family retreat, but it was the added perks of the setting that truly put this place over the top for her.
"The cabin is on an alfalfa farm at the edge of the Methow River. Right out of your cabin door you can access this trail, a lovely cross-country ski trail in winter. It's so private and tranquil," she told me. Other perks of the cabin included a fenced dog run, washer and dryer to launder your gear and even boarding for your horses, should you have them.
Where to Find Great Vacation Rentals
Vacation rentals are easy to locate, evaluate and book these days with websites that specialize in them.  The popular traveler review website TripAdvisor has expanded to vacation rentals and makes it easy to compare prices and reviews of vacation rentals alongside B&B's, hotels and inns for the same destination. Other vacation rental booking sites include HomeAway, Flipkey and VRBO.
One these websites, owners of vacation rentals post the listings themselves so there is no middleman or travel agency to go through. The lodgings will have plenty of descriptive text and photos for you to peruse. You can narrow your search with parameters such as the number of bedrooms you need or whether pets are allowed. You can even surface results based on keywords, like "hot tub" or "golf." Most helpful, though, are the reviews left by prior renters that give you a good sense of a property's assets, pitfalls, and overall value before you commit to the booking.
For a specific Northwest region, check out local websites that feature listings for vacation rentals. Popular with outdoor recreationists, the site CentralReservations.net features cabins and ski condos in the Methow Valley. Owners of vacation homes around Lake Wenatchee post their cabins on LakeWenatcheeInfo.com, and Mt. Baker chalet owners use mtbakerlodging.com. If your eye is set on a particular vacation resort community like Seabrook on the Washington Coast, Black Butte Ranch or Sunriver Resort in Oregon, you can go directly to the resort's website, then search for and book vacation rentals right there.
Vacation Rental Tips
Ready to take the plunge on your next getaway? Here are some basic tips for a smooth vacation rental experience:
Do your research. Read through the property's reviews to see what past guests shared about their experiences. Look for common themes in the reviews. If one bad review included had a petty gripe about the front door sticking but most of the other reviews are glowing, you might confidently ignore that one bad review. But if the same complaints surface a few times, take notice.
Go offline. Lyanda Haupt always makes contact with the owners for information not included in the property description. "I hate traffic noise, so I might call and say 'I'm looking for a place that is quiet, can you tell me how loud the highway noise is?' I appreciate it when the owner gives me a candid response, and I like engaging with the owner ahead of time."
Follow safe practices. Perhaps you've read about travelers being scammed by booking vacation rentals via websites like Craigslist only to show up and find the property doesn't even exist. Avoid being scammed by taking common sense precautions. Never wire money. Spot red flags, like if the owner pressures you to act fast before someone else books the property. And if a deal looks too good to be true, it probably is.
Read the Fine Print. Many of the rentals require minimum stays of two nights or more, or require a cleaning fee. Know what the cancellation policy is, and if there are any house rules you need to follow.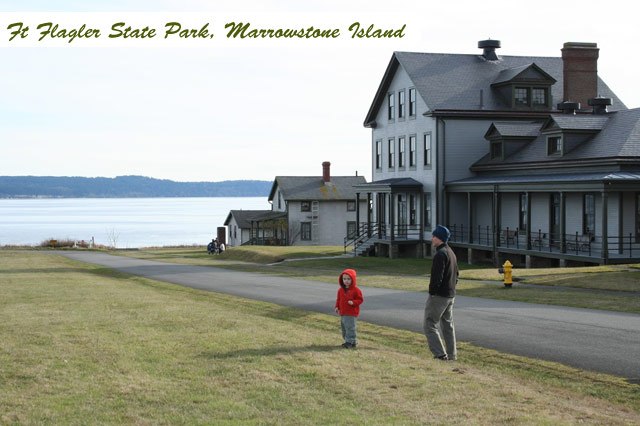 Vacation Rentals in Parks
Not all vacation rentals are listed on VRBO or AirBnB. Throughout the Pacific Northwest, outdoor enthusiasts are finding cheap sleeps right on the lands they play on, and they're not just sleeping in tents. Some dwellings are light-filled yurts near a beach, while others are historic cabins in the woods. Rates start as low as $46 a night.
Washington State Parks offers heated cabins and yurts at twenty three state park locations, including cozy cabins at Wallace Falls State Park and canvas yurts at Cape Disappointment State Park.
Eleven Washington State Parks also have vacation house rentals available; they're actual homes (many historic) that are heated, furnished and ready to host you on your next vacation. For example, Fort Flagler State Park on Marrowstone Island rents homes small and large that were once used by military personnel and their families. Cape Disappointment State Park rents out the lighthouse keepers' residences.
Several Oregon State Parks rent out vacation cabins ranging from very rustic to deluxe.
A fun option near Seattle is to rent a refurbished shipping container at King County's Tolt MacDonald Park in Carnation. The mod vessel rents for $50 a night.
A version of this article first appeared in 2012 on OutdoorsNW.com.