Bremerton is a small city surrounded on three sides by the waters of Puget Sound. Depending on who you ask, Bremerton is either charming and livable, or run-down and a bit boring. We think of it as the former, especially for its slowly-but-surely revitalizing downtown, good places to eat and panoramic views of the Cascades and Olympics. Bremerton also has a strong Navy presence and history, and its mothballed battleships are a stunning site along the waterfront.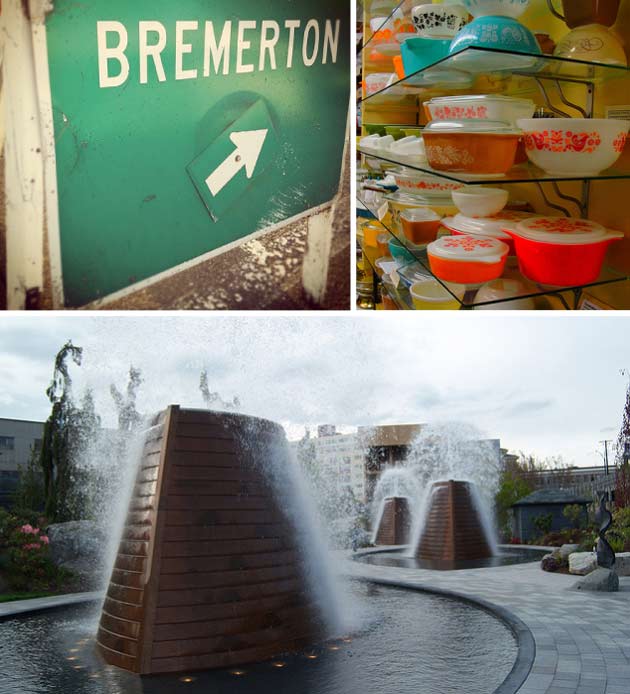 Getting There
From Seattle, board a Washington State Ferry from the downtown ferry terminal; the crossing is approximately one hour. If you leave your car behind, you'll discover downtown Bremerton has plenty to keep you entertained for half a day and is quite pedestrian-friendly. If you're coming from the south, cross the Tacoma Narrows Bridge on Hwy 16 and head north to Hwy 3.
Things to Do
Military and history buffs should check out the Puget Sound Navy Museum (free admission, closed Tuesdays).
The USS Turner Joy is a famed Navy destroyer from the Vietnam War, and its now maintained by the Bremerton Historic Ships Association as a museum for visits and tours.
Bremerton has more than a little kitsch around its corners, like at the Amy Burnett Gallery's world famous Kitsap Peninsula Pyrex Museum.
Just three mile northeast of Bremerton on Hwy 306 is Illahee State Park  (Discover Pass required) with a boat launch, hiking trail, swimming beach and camping.
Up for a hike? Head to Green Mountain, the second-highest peak on the Kitsap Peninsula. The trail to the top is 1000 feet elevation gain in 2.5 miles, and you'll be rewarded with views of Puget Sound, the Seattle skyline and the Cascades.
Cool off on a hot day at the Harborside Fountain Park near the ferry terminal, a great spot for kids to run and play in spraying water.
Where to Eat
Near the ferry terminal, don't miss Fritz European Fry House for a basket of fish and chips or a really fabulous burger.
For a fancy dinner date, splurge at La Fermata in Bremerton's Manette neighborhood. We had a prix fixe dinner on New Years Even here awhile back that was total perfection from start to finish.
If you like an old-school bakery (we do!) then don't miss McGavin's Bakery, home of its famous (and delicious) pink champagne cake.
Don't Miss
A fun reason to visit Bremerton in August is the Kitsap County Fair, one of the best fairs in the Northwest. The Kitsap Wine Festival is downtown Bremerton on Saturday, August 17. In September, check out Bremerton's seasonal Blackberry Festival.
Reader Itinerary
Poulsbo resident Sara Jensine Mittet has this itinerary to share for our next trip to Bremerton – thanks Sara!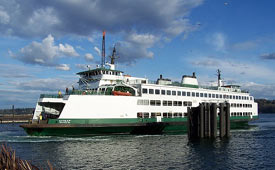 "Start with cold-brewed coffee (steamed hot!) and a fresh baked goodie (vegan and gluten free options) at Samudra Coffee, Tea, & Yoga followed by a walk around Evergreen Park. Then hit Bremerton's St Vincent's Thrift — many a happy find I have made there! After, have lunch at Hi-Lo's 15th Street Cafe (you can even dine in a VW Van!) Head to the Manette neighborhood before dinner to check out a couple of shops; the recently relocated Flea Market Chics and a lovely new shop called The Weekender that features the art of Jennifer Ament. You will want to finish your trip at La Fermata because they have truly delicious fare. If you are dining on a budget there is also a lovely little Thai joint downtown, Rimnam Thai Cuisine. There you have it, a former local's preferred stops when she hits Bremerton. Oh, and don't forget, there is not a ferry sailing between 9:05pm-11:40pm (the longest two and a half hour wait ever!), and Bremerton pretty much closes on Sundays."