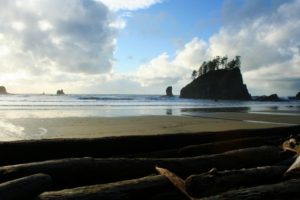 There are three beaches in close proximity near La Push – First, Second and Third beaches. First Beach is a short jaunt from the Quileute Nation's Oceanside Resort in La Push, and a popular gathering spot. Third Beach is 2.5 miles round trip through the woods (though the reward of solitude on the broad, sandy beach is well worth the hike.) Second Beach, right in the middle, is just right — a nice walk through beautiful woods to a broad sandy beach with few people and oodles of driftwood. It's a short hike, but a hike nonetheless.
Winters are often stormy on the coast, so if you visit this area in poor weather, wait to strike out on your hike when the wind dies down a bit and you can enjoy a sunbreak on the beach. You'll have less wind and more sun in summer months. Watch the tides, too – when the tide is high, there's not much beach to enjoy.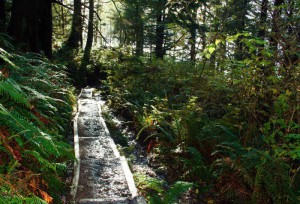 Much of this trail is lengths of boardwalk or constructed trail steps. The boardwalk could be slippery after a rain, so hike with caution. My three year old can't resist a puddle, so I when we hiked here I made sure he had waterproof shoes on. There were only a few spots where we had to assist him down steps that were too big for him–otherwise I'd say this trail is entirely kid-friendly.
Once the trail spills out onto the beach, a huge pile of driftwood separates you from the sand and water. Just climb on over it if you want to reach the sandy beach beyond.  The sea stacks in front of you are known as the Quilleute Needles. First Beach is to your right and Third Beach is to your left, but you can't see them or hike from one to the next because steep headlands block your way.
If you visit the Olympic Coast in Washington and wish to explore beach and forest hikes, you can't go wrong with my favorite guidebook, Day Hiking Olympic Peninsula by Craig Romano, published by The Mountaineers Books.
Where to Sleep
A nice home base for exploring around Forks, La Push and the Hoh Rainforest area of Olympic National Park is the Olympic Suites Inn on the north side of Forks. The suites are nothing fancy, just basic one-bedroom apartments on the Calawah River, but give you ample room to spread out hiking gear, dry rain-soaked clothes and cook up dinner in the full kitchen.  Our second-story room even had a little balcony with chairs. Rates are great, about $50-$75 in the off-season and $95 – $110 in summer for a sizable suite. Use of the kitchen is $10 extra, and if you pay that they'll give you all the pots, pans, dishes and utensils to use. Pets are welcome for $10.00 per pet per night.
Olympic Suites Inn
800 Olympic Drive
Forks, WA 98331