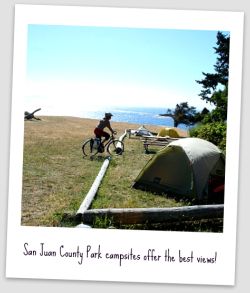 If ever there was a popular campground, this is it. We stop here frequently while on San Juan Island because you can sometimes spot killer whales from the park in the summertime. (Lime Kiln State Park is the spot for whale watching and a short distance south of here). Campsites can be reserved for May – September starting March 1, and reservations are strongly recommended for summer months. Winter camping is first-come, first-served.
Location: west shore of San Juan Island, Washington
park website | map of campsites | description of campsites | 360.378.8420
Campground type: county park
Rates: $32-$45 per night in summer, reduced fees in winter, +$7 reservation fee (summer only)
Details: 20 tent sites with a hiker/biker/kayaker area and a group site. Flush toilets. In case you were wondering, HAMMOCK TENTS are not allowed in San Juan County campgrounds. No foolin!
TripFinder Tip: It's no secret that walk-in site #18 is the most popular campsite on San Juan Island. The campsite pictured above is the hiker/biker campsite adjacent to site #20 (see map) and well, we think those two sites are pretty sweet, too.