It rains a lot in Astoria, Oregon, as anyone familiar with the winter of 1805 according to Lewis and Clark well knows. The rich shades of grey found in Astoria's sky probably provide inspiration for Benjamin Moore.
But when the sun comes out (and it does, eventually) this small maritime city is spectacular. And very well-caffeinated.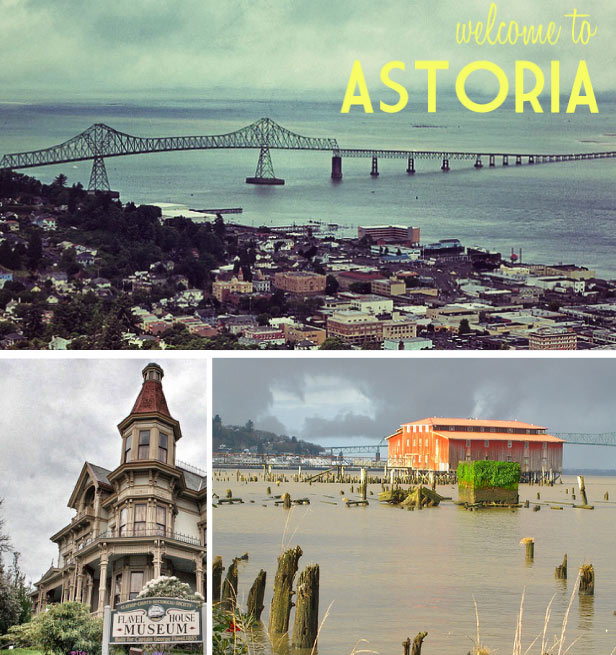 Astoria sits near the mouth of the mighty Columbia River, a city perched on a steep hillside with some of the Northwest's most beautiful Victorian-era houses looking over its riverfront downtown. It used to be a gloomy, industrial city. Now it's a gloomy, industrial city with cool art galleries and hand-crafted ales and cajun-fried oysters.
When I visit Astoria I don't feel the cold rain. I feel warmth. Astoria's locals are friendly, unpretentious and pretty much always have a cup of hot coffee in their hands. The guy in front of you in line at the espresso stand may have just rolled in from a fishing fleet, or he might be telecommuting for a tech company. Astoria is just that kind of place.
The city's history is rich and accessible, on display in its many museums and also right on its waterfront and parks. Lewis and Clark ended their journey here, off the coast is the "Graveyard of the Pacific," and the area has played unique roles in popular cinema.
Getting There
Astoria is about 96 miles northwest of Portland, and 180 miles southwest of Seattle. From Portland, take I-5 north and cross the Columbia River, continue until you reach Longview, Washington. Take Exit 36 to Highway 30 (you will again cross the Columbia River back into Oregon . Continue west on Highway 30 to Astoria / Warrenton. From Seattle, head south on I-5 to Longview, take Exit 36 and continue according to the directions above from Portland.
Where to Stay
Budget travelers should book a Euro-style room at the Commodore Hotel, where a shared-bath room with a distinctly modern vibe will set you back only about $69.
Astoria has its own boutique hotel in a rehabbed historic building, the Hotel Elliott. Swanky rooms can be had for under $150 in most seasons.
Or, splurge for a sweeping view of the Columbia River from a room at the Cannery Pier Hotel, built on a pier that once housed a real cannery and juts 600 feet into the river. Borrow colorful bikes for a ride on the boardwalk, and fill up on the free continental breakfast before your day of adventure.
Things to Do
No first trip to Astoria is complete without at least a little Lewis and Clark. Head to Fort Clatsop on the Lewis and Clark River, just southwest of downtown Astoria. It was here the Corps of Discovery based their winter encampment from December 1805 to March 1806. The Fort's visitor's center includes a replica of Fort Clatsop similar to the one built by the explorers. If you want to see more, set out on the Fort to Sea Trail from here as it winds its way through the woods south of Fort Clatsop all the way (6.5 miles) to Sunset Beach on the Pacific Ocean. Fort Clatsop is part of the Lewis and Clark National Historic Park.
Astoria was the setting for a little movie called The Goonies in 1985 that still reigns as a cult favorite among superfans. When you walk into the Oregon Film Museum, you might notice it's housed in the very jailhouse from The Goonies! Many films have been shot in Oregon (like Animal House and One Flew Over the Cuckoo's Nest), and you'll find all kinds of stories and memorabilia at this museum.
Flavel House Museum (built in 1885) stands as one of the best-preserved examples of Queen Anne architecture in the Pacific Northwest, as is open for tours. It was previously the home of Captain George Flavel, one of Astoria's most influential citizens in the late 1800s.
Don't miss the Columbia River Maritime Museum! If ever there is a place to immerse yourself in maritime history it's in Astoria, and this museum is fun, educational and totally engaging.
If you're up for climbing some steps (164, to be precise) to reach a spectacular view of the area, head to the Astoria Column (open dawn until dusk).
Where to Eat
I hope you weren't expecting a short, tidy list of spots to eat. There's just so much tasty eating to be found in Astoria, I couldn't possibly narrow it down.
You might have to wait in line but you won't care. Get a basket brimming with perfectly-fried chunks of fresh albacore tuna and a pile of thick steak fries at Bowpicker Fish & Chips, served right out of a gillnet boat! Located across from the Columbia River Maritime Museum.
Eat like a local at Charlie's Chowder House – they have the best bowl of chowder, steaming and loaded with tender clams. They also serve amazing fish tacos, steamer clams and espresso.
Astoria Brewing Company (formerly called Pacific Rim Brewery) takes up residence at the kid-friendly Wet Dog Cafe and Pub. Eat (and drink) out on the riverfront deck in summer. I recommend a Volksweissen (a Bavarian style wheat beer) and a juicy burger.
Grab a couch or a table. Have a coffee / croissant or a full lunch. Whatever you fancy, the laid-back Astoria Coffeehouse and Bistro manages to make you feel like you're eating in someone's cozy living room and treating yourself at the same time. We loved the cajun-fried oysters and lamb kebobs.
For more than 30 years, locals have flocked to Columbian Cafe for whatever is fresh–spicy vegetarian dishes, delicious crêpes and local seafood.
Sometimes, you just want a good beer in a can. Astoria's Fort George Brewery does it best–they make good beer and they sell it in the cutest tallboys you've ever seen. But at their Fort George Brewery and Public House, you drink that same great beer from a keg.
Place your yummy order at the counter (like lox and a bagel or shrimp yaki soba), then grab a table for lunch at T. Paul's Urban Cafe.
Where to Drink Coffee
Only for Astoria would we create a whole section in our trip guide for places to drink coffee! There are just a LOT of great coffee shops here, perhaps it's the weather. In any case, bean lovers are blessed.
Locals flock to Three Cups Coffee, and so do we. It's the public cafe for the small-batch Columbia River Coffee Roasters, and sits right downtown under the bridge. Take a cafe table if you like, or lounge on one of their comfy couches with a good book. Try their famous Thundermuck blend of beans, a rich and stormy concoction that is both smooth and bold.
I LOVE a good old-fashioned bakery, and Danish Maid Bakery downtown Astoria is just that. Every chocolate-glazed donut and cinnamon roll is made fresh daily, perfect alongside a cup of coffee or latte.
The west coast's oldest cannery building now houses one of the west coast's best coffeehouses, all the way at the end of Pier 39. Blame it on our modern economy. Or lay no blame at all, because Coffee Girl Coffeehouse is a heck of a lot more charming than a fishy cannery. (Sorry, canned tuna isn't my thing!) Enjoy free wifi, delicious (and artful) lattes and really sweet service.
Street 14 (in the ground floor of the Commodore Hotel) takes their coffee pretty seriously. They have fabulous pastries and sandwiches as well, but their coffee is stand-out great and their baristas are professionals. So go ahead and order that dry cappuccino!