How about a hike with a history lesson? Fort Flagler State Park is one of five impressive military installations that were established in close proximity to protect Puget Sound from invaders during times of war. Fortunately for us, all five were converted to state parks in the 1950s, giving the public access to thousands of near-shore acres and miles of prime coastline. Fort Flagler is the largest of them all.
The park is set at the northern tip of Marrowstone Island in Puget Sound near Pt. Townsend.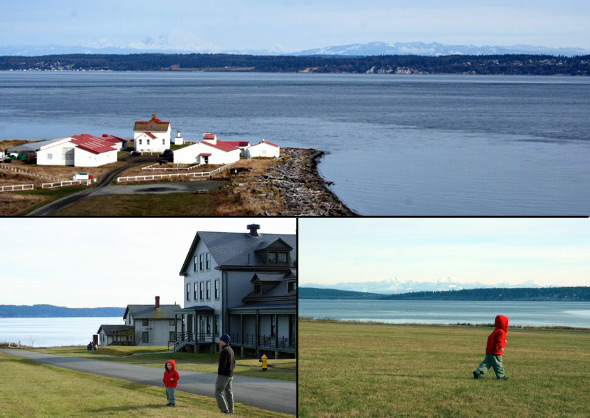 The Loop Hike
Park at the north end of the lower campground and start your 5-mile loop hike on the stony beach, enjoying the views across to Port Townsend in one direction and Whidbey Island in the other. To your right are towering bluffs, atop which is the group campground and another trail you can take later if there is time. If you see folks casting right off the beach, they're probably fishing for rockfish or salmon. Clamming is a popular activity here in-season.
Dress in warm layers, as this trail wraps around Marrowstone Point and the wind intensity may change on you. At 2.25 miles, leave the sandy beach and climb the bluff, hike around a lagoon, and eventually make your way back to your starting point. Along the way, you'll pass a handful of historic buildings, bunkers and other structures. Bring binoculars to spot majestic bald eagles on the bluff and dabbling ducks in the lagoon.
For more details about the trails at Fort Flagler State Park, I recommend Day Hiking: Olympic Peninsula by Craig Romano, published by The Mountaineers Books.
Camping at Fort Flagler
Make reservations: online | (360) 385-1259
Rates: $21-$31 per night
Camping Details: 57 standard tent sites and 57 utility hookup spaces, plus two primitive sites and one Cascadia Marine Trail site. ADA restrooms and showers available. Most of the standard tent sites are in the upper camping area, on the bluff. Larger RV sites (to 50 feet) are in the lower camping area, with a few tent sites mixed in. These have water access. There are also charming, fully-furnished vacation rental houses in the park. Note: a Discover Pass is required on your vehicle to recreate at the park if you are not camping there.
Don't Miss: Need supplies on your way to camping at Fort Flagler State Park? Make a stop at the Nordland General Store on Marrowstone Island (or as chatty locals jokingly call it, the Nordland Mall). This is a nice stopover for coffee, snacks and communing with the locals. For a general store in the middle of an island, it has an impressive selection of gourmet goodies like fresh pastas, local cheeses and ciders, and fancy crackers.
TripFinder Tip: The waterfront RV campsites at Fort Flagler are booked out for months in advance all summer long. Even tent sites on the bluff reserve far out in advance, especially on the weekends, so it's essential that you make your summer camping reservations for this park in spring, as early as possible.