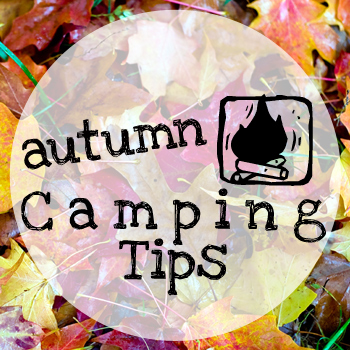 Faced with the cooler temps and drizzle of autumn, you may've already packed away your camping gear for the season. But if you can brave a little chill and a touch of rain, fall camping will reward you.
For one thing, you'll have solitude. No reservations required.
You can also expect to be sharing your campground and hiking trails with active wildlife. Watch chickadees searching bare branches for insects. Deer tend to move around more as they search for a suitable mate.
Vibrant fall color and crisp autumn air are also big rewards for fall campers.

Are you ready to pack up the tent for one last weekend of camping? Here are some autumn camping tips from Northwest TripFinder.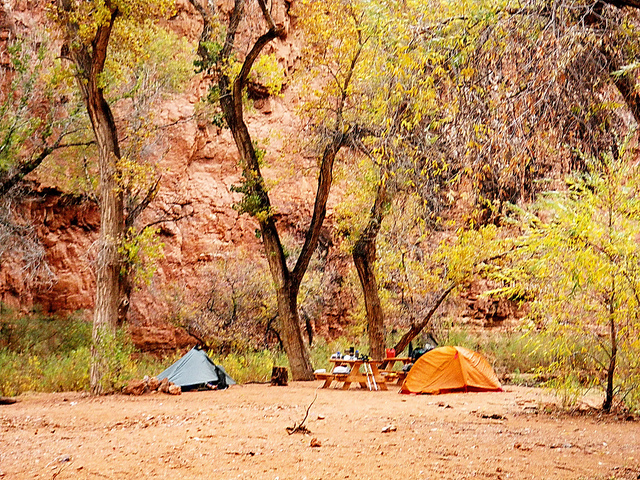 TIPS FOR FALL CAMPING
Make sure the campground is open. Some campgrounds are open year-round, some well into fall, and some only through Labor Day.
Pack a LOT of clothes. Bring more layers than you think you'll need. Days might be warm, warm enough for short-sleeves. But nights will undoubtedly be cool, possibly freezing. As soon as that sun goes down behind a peak, the temp will drop and you'll want to bundle up with a cozy hat, fleece jacket, and maybe even a down vest or coat over the fleece. You'll also want a rain jacket or parka on hand in case it drizzles, and that can double as a break layer from the wind around camp at night.
Pack a tarp and rope. The basic tarp is a simple and cheap piece of car camping gear that you might not use, but you will sure be glad to have if you need it in a downpour!  The ubiquitous blue tarp  is made of woven, laminated polyethylene and about $10, perfect for any budget. Pair one or two of these with some utility rope and you've got a rain shelter. See these instructions for rigging your DIY tarp shelter here. For more versatile and reliable protection from the elements, invest in a tarp setup that's made for that exact use, like this REI camp tarp.
Plan ahead for obtaining firewood. The later in the season, the less likely a campground host will be on hand to sell firewood all day. You may be able to purchase a bundle or two of local firewood on your way to the campground at a local store, farm or gas station. Note that firewood brought from far away is not permitted in many states for good reason (check your state here; Oregon banned firewood brought from outside the Pacific Northwest in 2013) as this can spread invasive pests. The website dontmovefirewood.org suggests that firewood you buy should be from only a few miles away, or at least in the same county.
Bring indoor and outdoor activities. Bikes and a frisbee are fabulous summertime camping pastimes for the whole family, but what if it rains, a lot?  You'll enjoy having playing cards, some board games and good books in case you spend far more time in your tent together than you bargained for.
Cook up autumn's harvest. If it's autumn and you're eating outside in the crisp fall air, nothing will taste better than a warm dish made with foods from a local harvest. Think chili with chunks of pumpkin or butternut squash, campfire corn on the cob, or a dutch oven pot roast with fall root vegetables. For breakfast, mix up a batch of pancake batter at home and transport it in a small jug or ziplock. Pour the batter in circles onto the griddle and then add chopped pecans and diced pears to your heart's content. For campfire s'mores, switch out the chocolate bar for chocolate and caramel squares and add some sliced apples.
Drink lots of warming liquids. When it's hot and you're sweating, it's easy to remember to hydrate, but we often forget to drink water at all when we're chilly. To make sure you and your family are well-hydrated, bring a thermos and keep it full with clear hot beverages like herbal tea or hot cider.
Carve pumpkins. It's a great outside activity to get into the autumn spirit, and you can then toast the pumpkin seeds in a cast iron skillet over the campfire. Don't forget to bring a candle for your jack-o-lantern.
Go to bed with a hot water bottle. This little trick can turn a cold sleeping bag warm and toasty in an instant. Heat water in a pan on your stove or over the fire, then pour it into a hot water bottle, one for each person. It will radiate warmth for hours.
Dry your tent when you get home. If you get rained on, your tent will be wet when you pack it up. If you forget to dry it before you put it away for the winter, you'll find a tent full of mildew next spring. Be sure it is thoroughly clean and dry before you pack it away.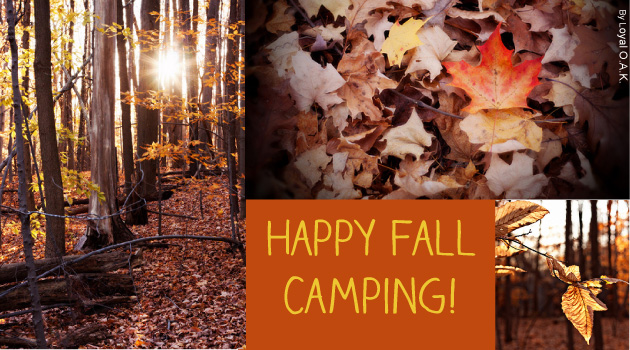 For fall hike ideas, check out my piece in ParentMap called Falling for Color: Five Fall Family Hikes in Greater Seattle.