The North Cascades Highway twists and turns around granite peaks before dipping down into Washington's glacial-carved Methow Valley. Here, open meadows are dotted with ponderosa pine trees that reach for a blue sky, and cast shadows across raging rivers.
Early summer is a marvelous season to visit here for outdoor recreation, as it tends to melt out early. Hike along cedar-lined creeks to stunning vistas of the North Cascades. Take a ride on horseback, or cast a fly rod. Explore the Methow's local culture in the valley's sweet small towns–Mazama, Winthrop and Twisp.
Where to Hike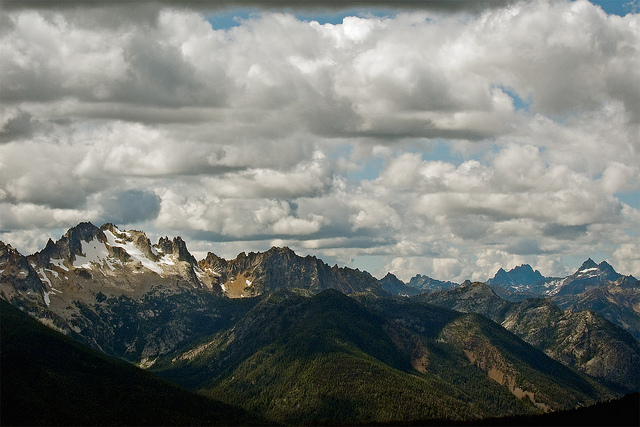 Cedar Creek Falls, Okanogan-Wenatchee National Forest.
3.5 miles round-trip, 500 feet elevation gain
This easy early-season hike is most impressive after spring snowmelt when the creek and waterfall, a two-tiered cascade, are swollen with turbulent water.
Goat Peak Lookout, Okanogan-Wenatchee National Forest.
5 miles round-trip, 1,400 feet elevation gain
A rugged trail with tight switchbacks, the reward is the view of peaks in every direction from one of two active fire lookouts in the Methow Valley.
Black Lake, Okanogan-Wenatchee National Forest, Pasayten Wilderness.
8 miles round-trip, 780 feet elevation gain
This hike through a recent burn along a pretty creek to Black Lake is delightful in late spring when colorful flowers paint the forest floor.
More day hikes: Twisp Pass, Sunrise Lake
TIPS: For details on all of these hikes and more, check out Day Hiking: North Cascades by Craig Romano. Always pack the ten essentials on any hike. Check trail conditions before your hike, and keep in mind that some of these trails may not melt out until July. Call the Methow Valley Ranger District at (509) 996-4003 and search recent trip reports at wta.org.
Where to Sleep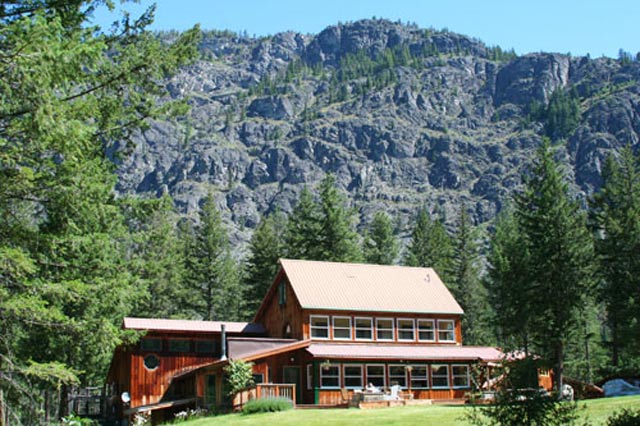 The North Cascades Basecamp in Mazama is no ordinary inn. With wildlife biologists for owners, the Basecamp has become a local hotspot for outdoor learning, sustainability and stewardship. Soothe post-hike muscles in the outdoor hot tub or relax with a book by the outdoor fire pit. Kids will love the play area outside, frog pond and library full of nature books. Cozy lodge rooms sleep 2-4 and share bathrooms. Your stay includes breakfast (local, fresh and organic). Summer season rates run $105 – $120 for lodge rooms. Shoulder season rates (spring and fall) are even more affordable.
Head further east to the Methow Valley Inn, a bed and breakfast just one block from Twisp's main street. The inn has modest-size rooms that are well-kept and nicely-detailed. The hardwood floors are as creaky as they are beautiful, though the rooms seem sufficiently soundproof. $89 to $119.
Head to Twisp for a funky, charming cottage at the Idle-A-While Motel (summer rates are $70 to $125). Some units have kitchenettes. The bumping Methow River is just a short path away from your bright yellow door. There's a hot tub and a sauna for guests to relax weary muscles after a day of hiking.
More cheap sleeps: Mazama Country Inn, Duck Brand Hotel
Where to Eat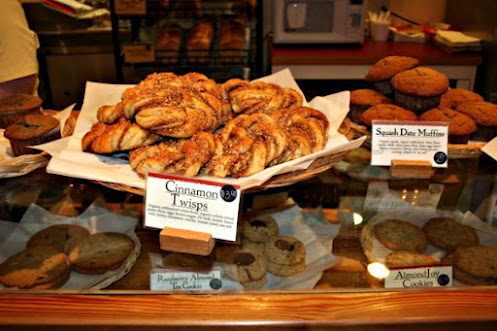 Twisp's morning hangout is The Cinnamon Twisp (116 N Glover St), known 'round the Northwest for their famous cinnamon pastries, which is a bit like a twisted-up cinnamon danish, and absolutely delicious before a brisk hike. They bake plenty of other tasty pastries, too.
Winthrop's Rocking Horse Bakery (265 Riverside Ave) brews an excellent cup of coffee and bakes loads of pastries fresh each day, from fruit tarts to buttery scones. You can also get more substantial fare like quiche and pizza. It's a terrific bakery with fast, great service.
Locals and tourists alike crowd into Twisp River Pub (201 State Route 20) for craft beer and a menu that goes beyond standard pub fare, with made-from-scratch soups and unique seasonal specials. Get a table with a view of the river if you can, and enjoy live music on weekends.
Watch the Chewuch River tumble past from your table at the Old Schoolhouse Brewery (155 Riverside Ave) in Winthrop. The menu is heavy on pub food like burgers, fries, fish and chips and hearty salads. Love dark beer? Try the coffee stout.
photo of the view from the Goat Peak Trail by Curt Smith.