PSST…. GET OUR PREMIER GUIDE TO FALL TRAVEL – AUTUMN ESCAPES IN THE PACIFIC NORTHWEST. GET INSPIRED TO SPEND YOUR FALL WEEKENDS COMBING ROCKY BEACHES, SAVORING THE HARVEST, AND HIKING SCENIC MOUNTAIN TRAILS OF WASHINGTON AND OREGON. GET IT HERE.
The best thing about autumn? Just being outside. Sweaters against cool air, the faint smell of woodsmoke, wild critters scurrying about to fatten up for winter, the crunch of curled maple leaves under your boots.  Autumn is magic season in the Pacific Northwest. And after our unusually hot summer, nothing sounds better than spending the cool evening beside a crackling campfire wrapped up in a plaid wool blanket, followed by sleeping under a dark sky filled with stars. Camping in fall is the best.
Get into the fall camping mood and glamp up your autumn campsite with these seasonal gear picks.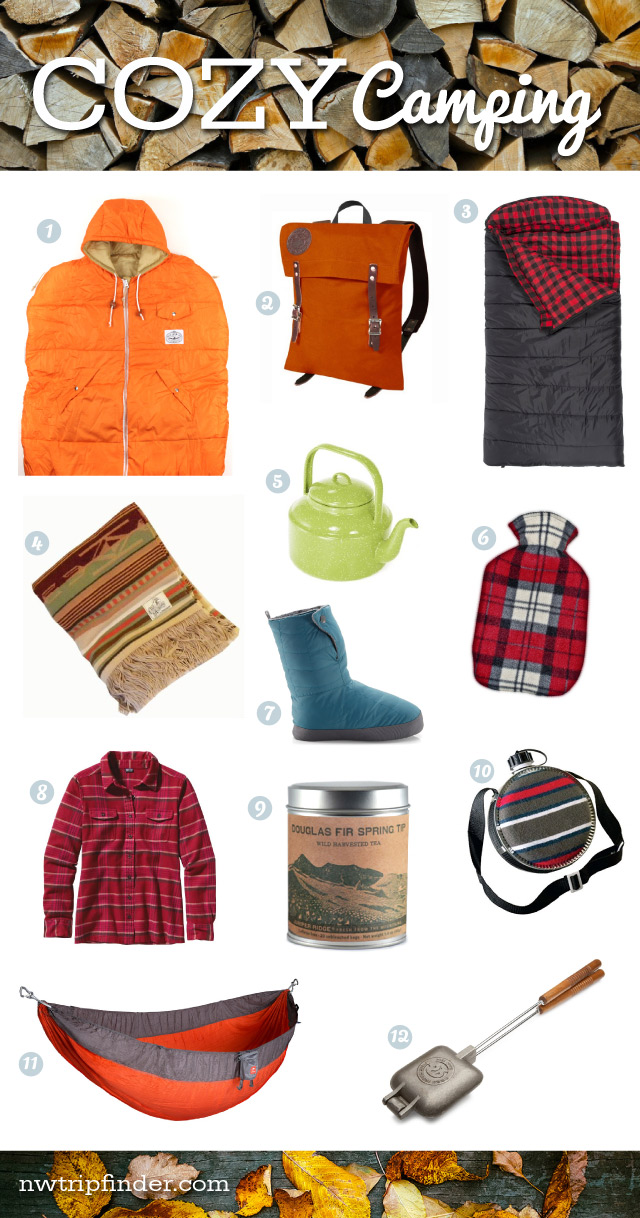 Cozy Camping Essentials:
1. Poler Sack by Poler Stuff ($129) Have you ever wished for a full-body puffy coat? Keep warm and cozy around camp in this ultrahip body sack, which is essentially a sleeping bag you can wear with a hood, zippered arm holes and cinch bottom.
2. Duluth Utility Pack ($105) The vintage, minimalist design of handcrafted canvas Duluth packs has gained popularity far beyond the portage trails of Boundary Waters. This rugged rucksack is perfect for fall day hikes through crunchy leaves.
3. Teton Sports Celsius Flannel-Lined Sleeping Bag ($70) Car camping should be about comfort. Ditch the narrow mummy bag you use for backpacking in favor of this one. It's soft, roomy and oh-so-comfortable.
4. Old Hickory Wool Santa Fe Tan Throw Blanket by Pendleton ($170) Nothing keeps you warm like wool, especially a 100% wool Oregon-made Pendleton blanket. Every autumn campsite needs one.
5. GSI Outdoors Tea Kettle ($28) Attractive, nostalgic and durable, this kiln-fired speckled enamel kettle will look great sitting on your campfire grate, simmering water for cup after cup of afternoon tea.
6. Hot Water Bottle and Fleece Cover ($28) Fill the hot water bottle and bring it into your sleeping bag for hours of extra warmth on chilly nights.
7. REI Down Booties ($55) If you really want to indulge in camping luxury (no, that's not an oxymoron) you need these duck down booties. The polyester shell fends off light rain and the insides are lined with super soft fleece.
8. Patagonia long-sleeved fjord flannel shirt ($89) If you camp in fall, you gotta have a favorite flannel. This long-sleeved classic is made of soft organic cotton flannel in several beautiful plaids and blanket stripes.
9. Juniper Ridge Douglas Fir Tip Tea ($13) Sip a taste of the Pacific Northwest around the campfire. Made with Douglas Fir tips, this tea is slightly sweet with a real evergreen finish.
10. Texsport Blanket Covered 4-Quart Canteen ($14) Stay hydrated in rustic old-school style with this cool canteen.
11. Kammock Roo Hammock ($99) Set it up for afternoon lounging  with a great book or overnight sleeping under the stars. Roomy enough for two campers, the Roo has a maximum capacity of 500 lbs.
12. Rome Pie Iron ($13) There's nothing easier (or more fun) than cooking over the campfire. This heavy duty cast iron "pie iron" makes toasty fruit pies and melty, gooey sandwiches with outside shells toasted to perfection. I'm in love with mine! 
_ _ _ _ _ _ _ _ _ _ _ _ _ _ _ _ _ _ _ _ _ _ _ _ _ _ _ _ _ _ _ _ _ _ _ _ _ _ _ _