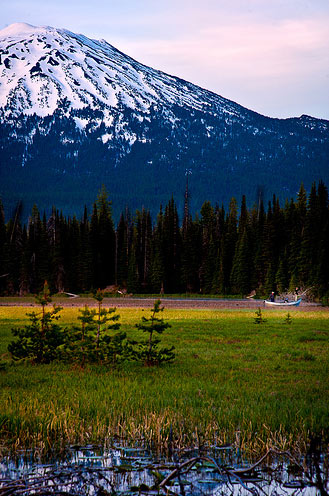 Bend is a sophisticated, outdoorsy town tucked in the eastern Cascade foothills, surrounding by some of the finest hiking trails, ski runs and fishing streams the Northwest has to offer.
With more than 250 days of sun per year, you can visit Bend year-round, but autumn is particularly nice. Hike among fall foliage through late October, set out on a scenic mountain bike trail in the crisp fall air, or just tour the local breweries to sample their seasonal pumpkin ales. It's a perfect place to spend an autumn weekend.
Things to Do
Bend is a recreation town, so pack your hiking boots and fleece.
In town, the Deschutes River Trail is a cyclist's dream, a paved path that runs along the beautiful waterway that is the heart of the city. Peak fall color along this route will take your breath away.
When you're ready to venture out of town, visit the Oregon High Desert Museum six miles south of Bend. Indoor and outdoor interactive exhibits focus on native wildlife and cultural history of the western high desert region. We love the daily raptor show here (they have a Gyrfalcon!) and the settler homestead and cabin replica.
Also south of Bend is the Lava River Cave, a mile-long lava tube cave that is part of Newberry National Volcanic Monument, an unexpected and stunning landscape of basalt. Take a self-guided hike through the cave, which takes about 1.5 hours. And wear layers!–it's chilly in the lava tube. (Note: the Lava River Cave is closed in the fall of 2014 for reconstruction work). Another fabulous autumn pick at Newberry if you can sneak it in before snow falls is Paulina Lake Loop, a high-country jaunt around an azure-hued lake. Oh, and there are hot springs.
Where to Eat
Head to The Sparrow Bakery (50 SE Scott St.) for breakfast or lunch. Their artisan croissants are out of this world. Better yet, try their signature pastry – an Ocean Roll – that layer croissant dough with generous sprinkles of cardamom, sugar, and vanilla. Heartier appetites should opt for a grilled-to-order Monte Cristo or Croque Monsieur – both are worth every calorie.
Beer lovers should head to 10 Barrel Brewing (1135 NW Galveston Ave) Their outdoor patio with a firepit is the place to be on a cool evening, and the food menu is pub with a serious gourmet twist. So pull up a chair, order some crawfish cakes and some steak and gorgonzola nachos, and raise a pint to great craft beer, because they have that too!
Another local brewery that combines their craft creations with great bites is Silver Moon Brewing (24 NW Greenwood Ave). Head to their taproom if you're seeking friendly local hangout, with a lively atmosphere, laid-back attitude and good food (try the gorgonzola fries). The pub often hosts live music, kids are welcome until 8pm, and Mondays feature $2.50 pints all day long.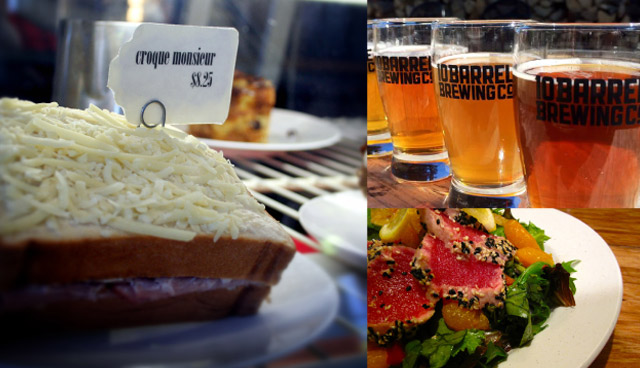 Where to Stay
All the cool kids stay at the McMenamins Old St. Francis School (700 NW Bond St.) downtown, where a mosaic-tiled soaking pool awaits after a day of leaf-peeping, and whimsical decor defines its 19 comfy rooms and four sweet cottages.  Rates start at $125, pets ok. Read reviews.
On a budget? Book a room at The Mill Inn, (642 NW Colorado Ave) tucked away in Bend's hip Old Mill District. The rate for a queen-bed room is $90/night with free wifi and breakfast included. Read reviews | Book a room.
Team up with another couple or  family and rent one of Lavabelle's adorable vacation cottages in the heart of Bend. These fully-furnished homes range from studios to bungalows, from one bedroom to four or more. The kitchens are equipped with every cooking utensil you could ever want, and many have bonus amenities (the one we stayed in had a grand piano!) Rates range from $150 – $300 a night. Pets ok. Read reviews and book a cottage.
Get more fall travel ideas for Oregon in my new book: Autumn Escapes in the Pacific Northwest.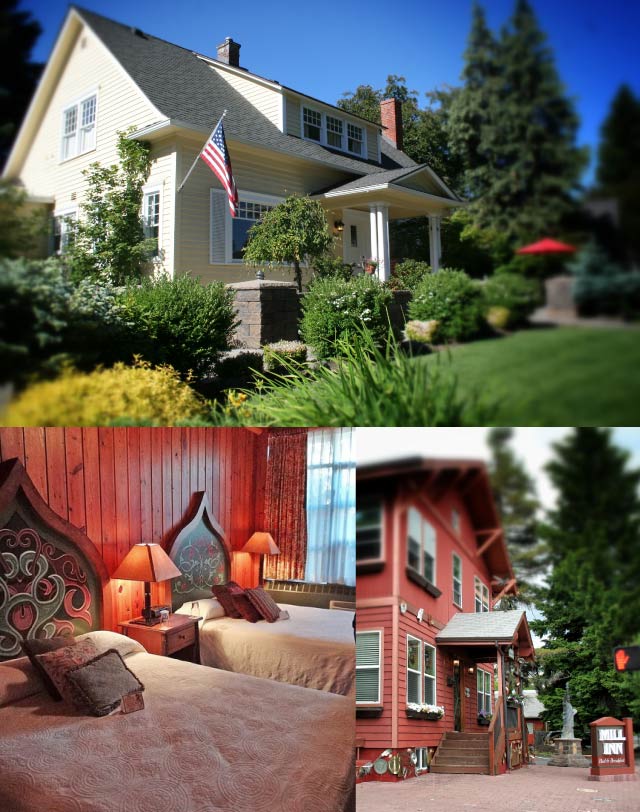 PHOTOS: Deschutes River by John Brockman. Paulina Lake by Amy Meredith. Old St Francis School room by Rick Berg. 10 Barrel Ahi by Premshree Pillai. All other photos are ours.