UPDATE: August 16, 2014
Good news on the Washington State Parks campfire ban, from DNR:
"With recent rain and current weather models predicting more moderate conditions in western Washington, the Washington State Department of Natural Resources (DNR) is adjusting the current statewide burn ban. Recreational campfires will be permitted in established fire rings in official campgrounds on DNR-protected lands west of the Cascade crest." 
Washington State Parks wants the public to know that park managers have the discretion to restrict campfires in campgrounds, based on their assessment of conditions, which may change quickly.
So, be sure to check the situation for your destination campground at parks.wa.gov before you head out, and if you plan to cook over a campfire, bring a campstove for cooking just in case you arrive and find out you can't have a fire after all.
More info: http://www.parks.wa.gov/
– – – – – – – – – – – – – – – – – – – – – – – – – – –
Previously published:
Washington's forests and grasslands are dry, and wildfires are burning from Cle Elum to Mt. Rainier.
What does this mean for you? If you live in an area experiencing a wildfire, you are probably evacuating your home or at the very least dealing with hazy, smoke-filled air and a lot of stress. Our thoughts are with you and the fire fighters battling these blazes.
If you will be camping in a Washington State Park, you won't get to have a campfire.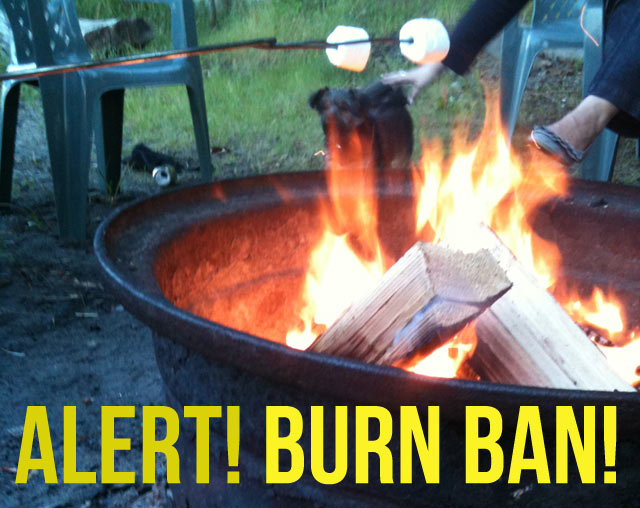 Effective August 12th, 2014, all outdoor fires on lands managed by the Washington State Department of Natural Resources are banned (so all state parks, fish and wildlife lands, and DNR recreation areas). This includes campfires in developed campgrounds and other recreational fires. Charcoal briquettes are also not allowed. This ban is in effect for the rest of the summer camping season, through September 30, 2014. This is the second summer in a row that Washington state lands have banned all campfires.
Other public lands in the state have banned outdoor fires as well. The Okanagan-Wenatchee National Forest has banned campfires since mid-July.
Wondering how you are going to cook dinner without a campfire or charcoal briquettes? Here are the cooking methods that are still allowed:
 • Propane and liquid gas stoves appropriate for camping and backcountry use
 • Propane barbecue devices that do not use solid briquettes
 • Propane or pressurized white gas warming devices that have a shield or base
 • Lava rocks or lava logs may be used in propane grills and barbecues
 • Solid fuel citronella or other candles in a metal bucket or glass container
Wondering how you will make s'mores over a gas grill or bbq? It can be done.
Why ban  outdoor fires? Hot, dry conditions have have led to wildfire danger that is unusually high on both the east and west sides of the Cascade Mountains. Our state's firefighting resources are significantly strained at the moment.
What makes wildfire danger high?
Dry conditions are just one factor that influences our wildfire danger. Lightening storms and campfires are frequently the initial sources of wildfires.
How do I know if the area I plan to visit has a wildfire?
You can stay on top of every major wildfire in the Northwest at Inciweb. If there is a fire in the area you are headed for a hike or camping trip, call the local land management agency and ask if the fire has prompted closures or reduced visibility or air quality.
Wildfire Resources
To report a wildfire in Washington, call 1 (800) 562-6010.
To find out how you can help prevent wildfires in the backcountry, read this informative post from Washington Trails Association.
The Washington State Department of Natural Resources has a wild fire twitter feed, and you don't have to be "on twitter" to view it. Just click here: twitter.com/waDNR_fire