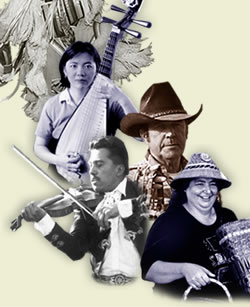 Deepen your experiences traveling in the Pacific Northwest though Heritage Audio Tours, created by the non-profit Northwest Heritage Resources.
In these dynamic audio guides, you'll hear directly from local residents–artisans, tradition-bearers, musicians and more–in their own words and music. The rich cultural heritage of towns and regions across the Pacific Northwest come to life for you as you tour the regions you're hearing about in real time, and see the histories and cultural traditions up close as you learn about them.
Designed to be listened to on the road, these ten audio tours are available in a variety of formats, including CD, some on cassette and MP3 downloads. Printed guidebooks with maps accompany the tour routes. The tours may be purchased online and range from $10 to $18. Many independent bookstores and historical societies carry the tours as well.
New! Cascade Loop Heritage Tour – North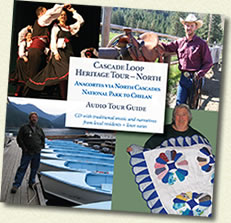 The Cascade Loop Heritage Tour – North is 212 miles of the north and eastern end of the Cascade Loop Scenic Highway. This audio tour begins on the saltwater shores of Puget Sound in Anacortes and travels east through Skagit Valley farmlands, dense forests along the Skagit River, and climbs into the spectacular North Cascades. Arrive on the other side in the wide, open rangelands of the Methow Valley, then pass fruit orchards and vineyards of the Columbia River Valley and come to the 50-mile fjord-like Lake Chelan. All along the way, the audio tour gives listeners a sense of the culture of the region around them, both past and present.
Whether you're a longtime resident of the Northwest or driving the North Cascades Scenic Highway for the first time, the local stories in this engaging audio tour will amaze you.  Hear a Samish tradition-bearer share why Guemes Island was known as "Dog Island." Learn about the many native and immigrant cultures that contribute to the rich fishing heritage of Anacortes. Visit with a Japanese-American strawberry farmer as he tells the history of how his family came to farm in the Skagit Valley and held onto their land during World War II. A descendant of Dutch immigrants tells how he carries on his family's bulb growing business brought over from Holland. A fly fisherman shares his favorite fly ties for catching steelhead, and a backcountry Forest Service ranger tells her story of having to locate a hiker during the famous Thirtymile Fire of July 2001. These stories and many more are shared along with local music and relevant bits of cultural history.
Buy It:   CDBaby (CD or MP3)  |   more buying options
This post is sponsored by:  Northwest Heritage Resources  |  206.306.1181  |  northwestheritageresources.org