Dear TripFinder,
My family used to visit Sunriver Resort near Bend, Oregon almost every summer, but now that we live in Seattle and not Portland the trip has gotten too long for a 3-day weekend. Are there any similar resorts in Washington state?
Thank you, Jen
Dear Jen,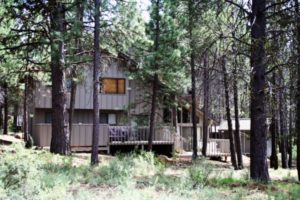 My family just dropped in on Sunriver Resort and Black Butte Ranch during our recent trip to Central Oregon, and although Black Butte Ranch was a bit more our style (more on that incredible place soon!) I thought they were both awesome spots for all-season family getaways. I'm not surprised in the least that you're looking for a similar experience closer to home.
For those that don't know, Sunriver is a huge community of vacation homes first developed in the 1970s. South of Bend, it's set in a gorgeous Ponderosa Pine forest and is a short drive from skiing, mountain bike trails and hiking. It offers so much to do right onsite that you don't need to leave for your entire vacation if you don't want to. There are several restaurants, plenty of golf, paved bike trails, swimming pools and waterslides, a nature center with kids' activities, sledding and more. Sunriver just opened a multi-million dollar recreational facility called SHARC in May that has even more pools, slides and a lazy river float. If you want to stay there your options are to book a room or suite in their lodge, or go the vacation rental route by renting a private home by the night or week, which in the long run saves money because you can cook in.
The most similar type of place to Sunriver I can think of in Washington is Suncadia Resort about 90 minutes east of Seattle near Cle Elum / Roslyn. I've not stayed here myself, but I know that many of the same types of amenities are offered (golf, paved trails, pools, tennis, ballcourts, restaurants, wonderful mountain scenery, etc.) and you have the choice of booking directly with Suncadia for a room at the lodge, or booking a privately-owned vacation rental house through a website like VRBO. For a family, the vacation rental is probably the way to go. However, Suncadia is all new development and therefore more expensive. You might find a small lodge room in summer for $220/night, but you won't likely find a vacation rental home for under $400/night. (In contrast, at Sunriver or Black Butte Ranch you can find smaller vacation rental cabins for as low as $125/night in the high season.) I recommend doing some research on a site like TripAdvisor or Yelp to get a sense of the resort's service performance and value for your needs.
Another spot to consider is Alderbrook Resort on Hood Canal. We stayed at Alderbrook for a night this spring and I wrote about it here. Plopped on Hood Canal's elbow or "Great Bend," Alderbrook is a local institution and has welcomed vacationers on its shores for nearly 100 years. Today's Alderbrook has deluxe accommodations and swanky amenities like an on-site spa and high-end restaurant that specializes in seasonal Northwest cuisine.
Finally, the new resort town of Seabrook on the Washington coast north of Ocean Shores offers many attractive amenities for vacationing families, from an indoor poolhouse to a pottery studio. There are tennis courts, communal firepits, cruiser bikes to ride and pocket playgrounds. Across the highway is beach access, where there are miles of sand to roam. All the houses are vacation rentals and vary greatly in rates depending on the house's size, though some are quite affordable.
Hope this helps! If you take a trip, you can now share your trip story with other local travelers.