At Silver Falls State Park, you're in the best of both worlds–a stone's throw from Willamette Valley wine country, and inching up the west slope of the Oregon Cascades. And by "cascades" we mean mountains… and waterfalls. Lots of waterfalls.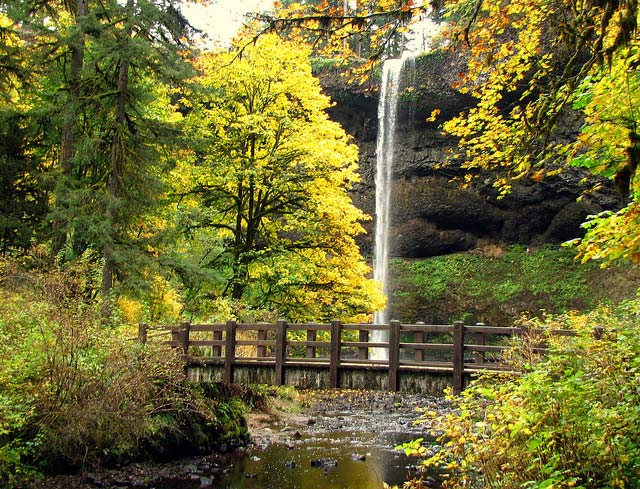 We are spoiled rotten. In the Pacific Northwest where huge swaths of land are protected as national parks and wilderness for critters and for future generations to enjoy, even our most stunning state parks sometimes get… overlooked.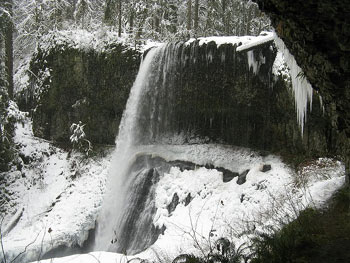 Silver Falls State Park is one you definitely don't want to overlook. Nestled on the western slope of Oregon's Cascades east of Salem (a part of the greater Willamette Valley where Christmas tree farms outnumber vineyards) is Oregon's largest state park comprising nearly 9,000 beautiful acres.
The park itself is one of the Northwest's finest, with miles of hiking and paved biking trails, stunning rain forest habitat and spacious, beautiful campsites. Silver Falls has some of the last remaining low-elevation old growth coniferous forest in the Cascade foothills, so don't forget to pack your camera!
One of the park's greatest assets? The 14 rustic cabins you can rent, four of them pet-friendly and all of them heated. Outside each cabin is a picnic table, spacious deck and campfire pit.
Location: east of Salem in the Willamette Valley
Distance from Portland: 60 miles (map + directions)
Great for: waterfall lovers, families
Best season: year-round, busiest in summer, prettiest in autumn with fall color
Reservations: 1-800-452-5687 or online
Summer camping rates: $19 for tent sites, $24 for electrical hookup sites, rustic cabins are $40
Winter camping rates: $15 for tent sites, $20 for electrical hookup sites, rustic cabins are $39
Take a hike: You won't even have to leave the park for one of the best hikes in the region – the 7-mile Trail of Ten Falls (also called the Canyon Trail) that takes you past ten majestic waterfalls, some as high as 100 feet. At four of the falls you can actually walk behind them and feel the spray – a wonderful way to cool off on a hot summer day. In winter, these trails can become covered in snow and ice, so traction shoes and trekking poles are strongly advised.
Post hike grub: In a town with a surprising number of good eateries for its size, historic downtown Silverton's Gather cafe is a favorite for great coffee, Northwest-inspired food, and communing with the locals. They serve breakfast and lunch til 3pm. For dinner, head to Silverton's best bistro, Silver Grille Cafe and Wine.
More info: park website  |  (503) 873-8681
photos: Silver Falls State Park trail in autumn by David Berry, Silver Falls State Park waterfall in winter by James Perkins.