It's hard to believe, but fall and winter are the quiet seasons at Northwest hot springs.
Even with an autumn chill in the air these natural pools stay nice and hot, so you might expect to be bumping elbows while you soothe your muscles. After all, at the end of a brisk autumn hike in the Cascadia backcountry I can think of few things more satisfying than dipping into a steaming vat of mineral water.
Fortunately, the thermally-active Pacific Northwest is pretty close to paradise when it comes to natural hot springs, and you can dip into most of them year-round.
To reach remote mountain hot springs set in lush coniferous forests, one must travel by foot. Trails to primitive hot springs are usually well-trodden paths, as thousands come in search of their relaxing minerals and rumored curative powers.
Some hot pools are much more accessible, with onsite lodging and restaurants that make for an easy, mineral-soaked getaway. And there are steamy springs to satisfy everyone, from the thermal traditionalist who prefers to dip au naturel (try Breitenbush) to the luxury traveler in search of a spa resort experience (try Bonneville).
Here are a few fun overnight destinations for natural hot spring dipping.
Breitenbush Hot Springs, OR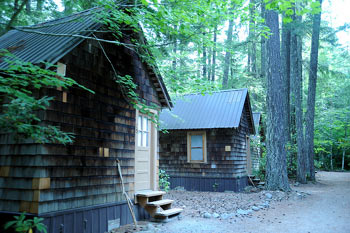 Breitenbush Retreat Center is a worker-owned co-op community on 154 acres of wildlife sanctuary in the Willamette National Forest of Oregon. They offer seven unique relaxing pools, a steam sauna, yoga and meditation sessions, verdant hiking trails–all ensconced in a mellow Oregon vibe. Accommodations are simple and rustic, but not uncomfortable. Lodging ranges from dormitory-style bunks to cabins with private baths, and rates are $56+ PER person, which includes all meals (organic and vegetarian), yoga and 24-hour access to the hot springs. Bring your own bedding, robe, towels and toiletries, and leave pets and laptops at home. Reservations are required.
Good to know: The pools here are clothing-optional and many people choose to soak in the nude. If you prefer a bathing suit, by all means suit up. Breitenbush has a respectful atmosphere-this is not a flirty pick-up joint. It's also an alcohol-free zone. They don't serve coffee for breakfast, either, so pack some Via instant if you're like me and absolutely must start the day with a cup of joe.
Info: breitenbush.com | (503) 854-3320 | Read reviews
Belknap Hot Springs, OR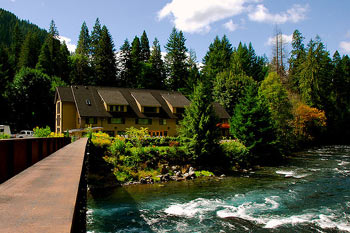 Belknap Hot Springs and Lodge is set among lush, mostly manicured gardens by the McKenzie River in the Oregon Cascades, and the prescriptive vibe could not be more different from mellow Breitenbush. Belknap offers variety when it comes to lodging choices (pick a cabin or lodge room, park your RV, or go for the best value and pitch a tent in one of their walk-in campsites). There's no variety in pool temperatures–both pools are about 103 degrees. However, the pools are quite large and you can actually swim in them, which is unique for hot spring pools. Rates are $12 for day use (open 9am – 9pm), $25-$35 for camping, and start at $100 double occupancy for a very basic lodge room or small cabin. Bathing suits are required here.
Info: belknaphotsprings.com | (541) 822-3512 | Read reviews
Carson Mineral Hot Springs Resort, WA
Take a step back in time at this funky resort. Located on the Washington side of the Columbia River Gorge, the Carson Hot Springs Resort is no-frills, and the towels aren't particularly generous or fluffy, but the water is full of healing minerals and the soaking tubs are private. Yes, you read that right-the mineral water is pumped into actual old-fashioned clawfoot tubs in a bathhouse, which is quite a different experience than soaking outside under the stars but evidently the way local folks have been soaking for more than a century. There's a sauna, a golf course, and you can book a massage. A king-bed room here is just $75, double occupancy, though that does not include use of the bathhouse. For an extra $20 you can get a mineral soak followed by a hot towel wrap.
Info: carsonhotspringresort.com | 1 (800) 607-3678 | Read reviews
Sol Duc Hot Springs Resort, WA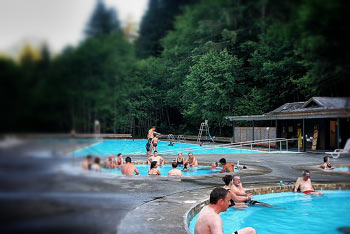 Spend the night in a charming, rustic cabin in Olympic National Park's Sol Duc Hot Springs Resort, just steps away from a steaming vat of hot spring water. Start your day with a hike through the moss-draped rain forest of ancient trees then hit the pools, finding the temperature that feels just right. While you soak your sore muscles in the pools and tubs here, listen to the sounds of the Olympic rain forest all around you. There's no other hot springs experience quite like it anywhere else. Accommodations are cute cabins, some more rustic than others and some with kitchens, and they start around $145 a night. This lodge closes for the year in mid-October.
Info: olympicnationalparks.com | 1 (866) 476-5382 | Read Reviews
This article is an excerpt from my new travel guidebook, Autumn Escapes in the Pacific Northwest, available for Amazon Kindle and Kindle apps. I would be so grateful if you bought it and let me know what you think of it. Thanks!
Photo: Breitenbush hot spring pool by Los Paseos and cabins by Wonderlane. Belknap Lodge by Don Hankins. Sol Duc pools by Lance and Erin.