Posted: July 31, 2013
As anyone with a Northwest veggie garden knows, this summer has been extremely dry. Our forests and grasslands know it, too; wildfires are burning from Wenatchee to the Umpqua.
What does this mean for you? If you live in an area experiencing a wildfire, you are probably evacuating your home or at the very least dealing with hazy, smoke-filled air and a lot of stress. Our thoughts are with you and the fire fighters battling these blazes.
Wildfires might impact your summer travel. See more on that below.
And if you will be camping in a Washington state park, you won't get to have a campfire.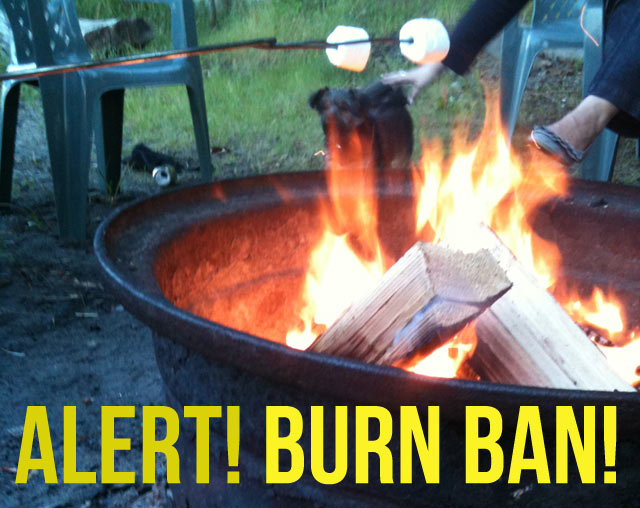 Fires banned in Washington State Parks and other state lands due to wildfire risk
Effective July 30th, all outdoor fires on lands protected by the Washington State Department of Natural Resources (DNR) are banned. This ban is in effect through September 30.
Why ban  outdoor fires? Hot, dry conditions have have led to wildfire danger that is unusually high on both the east and west sides of the Cascade Mountains. Our state's firefighting resources are significantly strained at the moment (see more below).
This ban is now in effect through September 30, 2013 and prohibits campfires in developed campgrounds and other recreational fires. The ban also prohibits prescribed burns.
There was some confusion about whether or not this DNR ban extended to Washington State Parks, but we confirmed that yes, it does.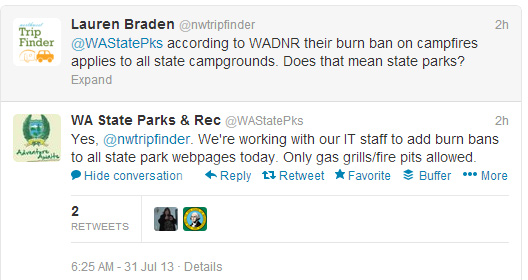 Update: Here is the Washington State Parks press release which states: "Washington State Parks bans campfires in all state parks – Open fires and use of briquettes prohibited until further notice to help prevent human-caused wildfires during hot, dry season." 
What makes wildfire danger high?
Dry conditions are just one factor that influences our wildfire danger. Lightening storms and campfires are frequently the initial sources of wildfires. Meteorologist Cliff Mass wrote an interesting blog post earlier this week forecasting wildfire threats based on weather trends – read it here.
How do I know if the area I plan to visit has a wildfire?
You can stay on top of every major wildfire in the Northwest at Inciweb.com: Washington state wildfires are listed here and Oregon wildfires are here. If there is a fire in the area you are headed for a hike or camping trip, call the local land management agency and ask if the fire has prompted closures or reduced visibility or air quality.
Several areas in Washington state are currently impacted or closed due to wildfires.
South of Wenatchee, the Colockum Tarps wildfire has grown to 60,000 acres due to strong winds and stormy weather. Kittitas County has now declared a state of emergency. Firefighters are digging containment lines while attempting to protect structures, three power transmission lines, two wind farms, a natural gas line and cultural resources along the Columbia River. This fire, the state's largest, has forced evacuations of over 65 homes. Recent additions to the evacuation include areas along the Kittitas County side of the Columbia River from the northern county line to the southern edge of Scammon Landing and the Skookumchuck River, north of Vantage. The recreation areas along the river in the evacuation zone have been closed, and anyone in those areas is advised to leave. The Whisky Dick Wildlife area has also been closed.
A new wildfire is forcing evacuations near Stehekin at the northwest end of Lake Chelan. This lightening-caused fire has grown to 250 acre. The Moore Point Campground and part of the Lakeshore Trail, between Meadow Creek and Flick Creek Campground, are closed.
The Mile Marker 28 Fire near Goldendale has raged for a week and burned 35 square miles. It is currently inching towards the tiny town of Bickleton, with a population of 300. Highway 97 from Toppenish to Goldendale remains closed, and there is no estimated time for when the highway will reopen. Brooks Memorial State Park is currently closed due to this fire.
Just outside of North Bend, both hiking trails on Mount Si are closed due to a brush fire.
Wildfire Resources
To report a wildfire in Washington, call 1 (800) 562-6010.
To find out how you can help prevent wildfires in the backcountry, read this informative post from Washington Trails Association.
The Washington State Department of Natural Resources has a wild fire twitter feed, and you don't have to be "on twitter" to view it. Just click here: twitter.com/waDNR_fire
Wondering how you will make s'mores over a gas grill or bbq? It can be done.