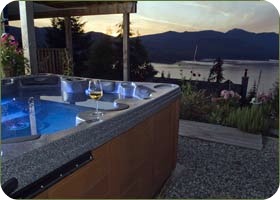 I know you all are planning your summer vacations already.  I keep an eye on my stats, you know! And lately, visitors to Northwest TripFinder are looking for beachside cabins, yurts and coastal getaways galore! I also know where you think you're going.  The Oregon Coast comes up a lot. So does Long Beach, and those adorable yurts at Cape Disappointment. And boy am I jealous – those are all fabulous places for summer excursions. But there's a place, a wondrous place not far away, that you're forgetting all about. This beautiful destination is just to the north of Vancouver in British Columbia, and it's called the Sunshine Coast.
I'd seen the Sunshine Coast once before, sort of.  It was from the deck of a ferry boat several years back, the ferry that cruises for three days through the Inside Passage, making its way up to the ports of call of Southeast Alaska. I was headed to the sheltered inlets of Alaska for some of the best sea kayaking in North America. What I didn't know, looking out onto the steep cliffs and breathtaking mountain backdrop of British Columbia, was that our ferry boat was motoring right past a "paddler's paradise" much closer to my home base of Seattle. The Sunshine Coast, with its rich native and maritime history, awesome scenery and ample wilderness campsites, is one of BC's star attractions, and a world-renowned destination for outdoor recreation.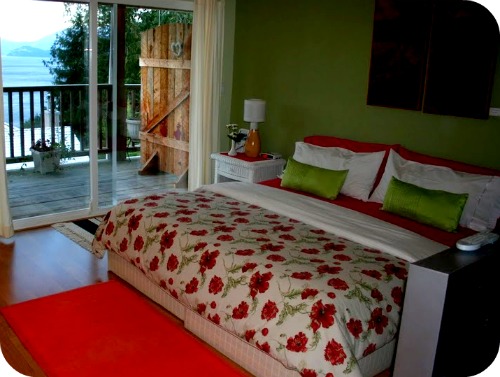 So, where are all of the Americans? On my recent excursion in search of sunshine on this rugged coast, I asked B&B owners, hostel proprietors and hotel managers the same question, and in reply I kept hearing basically the same thing.
"We don't see many Americans these past few years," they told me. "Germans and Australians, yeah. Canadians from the Lower Mainland and Alberta. But very few Americans."
I pondered this while watching a pod of Pacific white-sided dolphins frolicking in the water from the deck of my friendly accommodations, Sechelt Inlet Bed and Breakfast. At $135, my B&B for the night was on the high end of our budget, but the unbelievable view, kitchenette, multi-course breakfast, free wifi and enormous hot tub might help explain why. From what I could tell, accommodation rates on the Lower and Upper Sunshine Coasts are a noticeable bit below comparable coastal accommodations in the states. The excellent B&B we stayed at would easily have cost us over $200 on the Oregon Coast or one of the San Juan Islands. And with the U.S. dollar a few cents stronger than the Canadian dollar right now, travel is an even better value.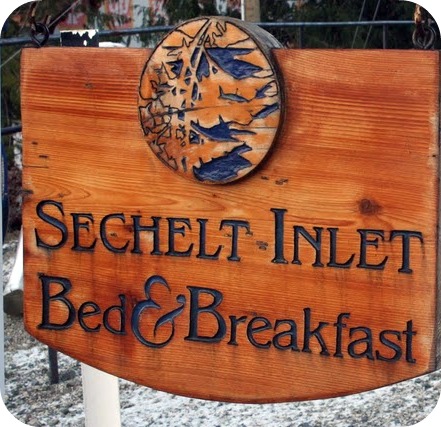 So what are you waiting for? Certainly not your passport, I hope! If that's your issue, just read this now.
Sechelt Inlet Bed and Breakfast overlooks the southern swath of Sechelt Inlet, one of the Lower Sunshine Coast's premiere paddling areas. Kayakers often put in at Porpoise Bay Provincial Park, just a few short kilometers from both the Sunshine Coast Highway and Sechelt Inlet B&B. Paddlers can use the Park's campground as a base camp for day exploring, or paddle on up the inlet, where wilderness campsites are plentiful along the shore. Sechelt Inlet B&B's friendly owners described for me how many paddlers start and finish their excursions with an overnight stay with them. I imagine that after a few days of paddling and camping, the extra-capacity hot tub overlooking the inlet and home-cooked hot breakfasts are well-savored.
Planning your own trip to the Lower Sunshine Coast? If this is your first trip, I feel the need to warn you – there is a LOT to do here, from hiking, cycling and paddling to eating incredible seafood and drinking local wines. It'll probably be your first of many annual visits – for real! I'll most definitely be going back this summer myself. I hope to check out the Sunshine Coast Festival of the Written Arts (August 4-7) and take my time along the Purple Banner Route, a tour of more than 65 local galleries and artist studios.  Check out Tourism British Columbia's terrific resource page here when planning your visit to the Sunshine Coast. And check back with my blog, too. I hope to write plenty more about this amazing region in the future! (Just as soon as I renew my passport.)
Our stay at the Sechelt Inlet B&B was comped. Thanks, Dick and Jean, for your great hospitality!