One of the most stunningly scenic coastlines in the Northwest draws travelers to the Sunshine Coast's sheltered bays fringed with fir-scented forests. Plus, the 100-mile coastline enjoys more sunny days than anywhere else in western British Columbia.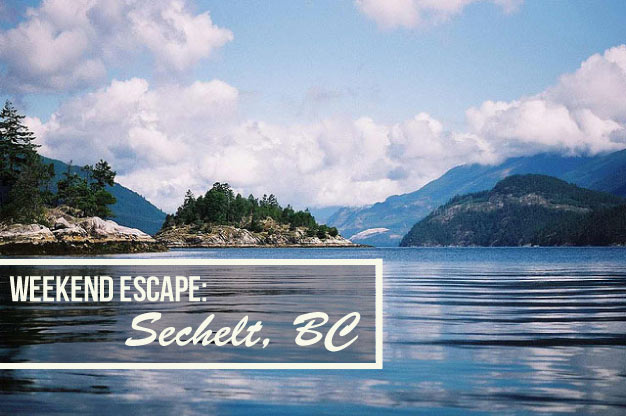 The Sunshine Coast is the stretch of British Columbia's mainland coast to the northwest of Vancouver. Sheltered from the Pacific Ocean by the mountains on Vancouver Island, the entire stretch of sandy beaches and rocky outcrops lies in a rain shadow, hence its sunny name.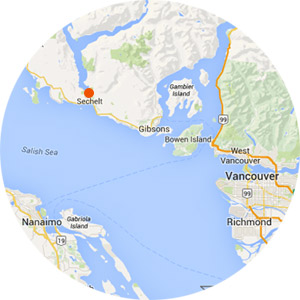 In summer months, the water is warm enough for swimming and pleasure boats large and small crowd the calm waters here. So here's our secret: to shun the throngs of sun-seeking tourists, we prefer the Sunshine Coast as a spring, fall or winter getaway.
On the northwest end of Vancouver is Horseshoe Bay, a ferry terminal with departures west to Vancouver Island and north to the Sunshine Coast. The quick 40-minute ferry crossing deposits you in the seaside town of Gibsons, a fine town to stop off for a nosh of fish & chips or a steamy latte. Fans of the 70s-80s Canadian TV series The Beachcombers will definitely want to stop here and have a meal at Molly's Reach restaurant.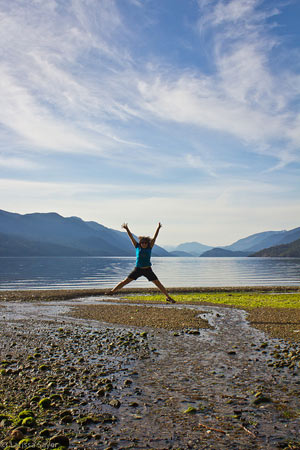 North from Gibsons stretches the Sunshine Coast Highway (Hwy 101), a remote and scenic drive all the way to its end in the offbeat village Lund, with a smattering of larger towns (including Powell River where you can catch a ferry over to Vancouver Island), provincial parks and one more  ferry crossing (at Earls Cove) in between. For a quick Sunshine Coast escape, however, you'll want to explore only the Lower Sunshine Coast, the portion south of Earls Cove. On our trip to this area, we stayed overnight in Sechelt, 22km north of Gibsons.
The word Sechelt means land between two waters in the language of the Coast Salish people who first settled this area thousands of years ago. Sechelt straddles a narrow, 1 km-wide isthmus that separates the Strait of Georgia from Sechelt Inlet, a stunning, protected fjord flanked by steep, forested hills. Home to writers, artists and empty nesters, the small town of Sechelt has cozy cafés, galleries, boutiques, a farmers market and plenty of scenery and marine wildlife.
Get there: The town of Sechelt is about five hours of travel time from Seattle, assuming a hassle-free border crossing and well-timed ferry crossing. Get directions from Vancouver. Remember that US citizens now need a passport to travel to Canada. You can reserve a spot on the ferry crossing (888-223-3779) from Horseshoe Bay to Langdale.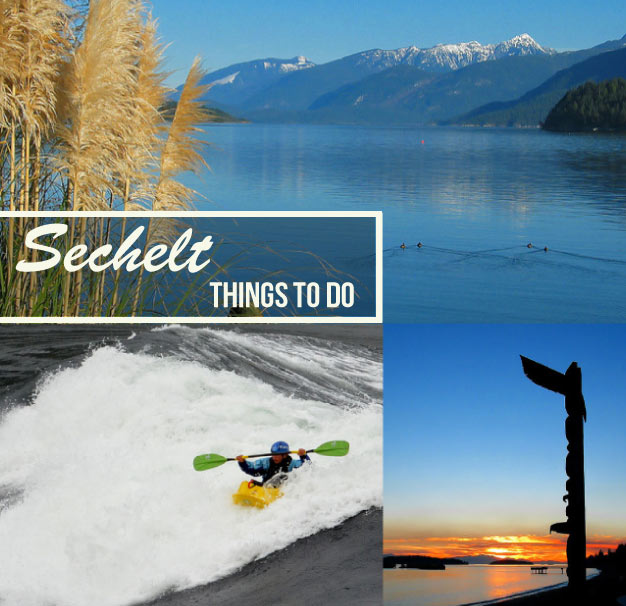 Things to Do
If this is your first trip to the Sunshine Coast, you'll be surprised with all there is to do from hiking in wild provincial parks, cycling and kayak paddling to gallery-hopping, eating incredible seafood and drinking local wines.
Just outside of Sechelt is Porpoise Bay Provincial Park, set on Sechelt Inlet. Come here for the picnic area, sandy beach, hiking trails and, if you are lucky, marine mammal sightings! If you have kayaks, this is a nice place to have them with you. Paddlers can use the park's spacious campground as a base camp for day exploring, or paddle on up the inlet for a multi-day excursion where wilderness campsites are plentiful along the shore.
Want a quick jolt of nature? Sechelt Marsh (5741 Wharf Ave by the marina) is a nice park for a walk and wildlife watching, especially during spring and fall migrations when loads of ducks and songbirds stop over here for a rest in the brackish, marshy waters.
See the famous Sechelt rapids at Skookumchuck Narrows. About 60 km north of Sechelt is an unusual geologic attraction worth the side trip. Skookumchuck Narrows is a narrow opening where the Georgia Strait meets Seachelt Inlet, and as the tide goes in and out, water pours through this opening with a strong current, creating the Sechelt Rapids. Skookumchuck Narrows Provincial Park has trails and viewing areas so you can experience the awesome power of incredibly turbulent tidal rapids up close. Riding these rapids is on the bucket list of many experienced kayakers, and if you're lucky you'll see some of them in action. You'll want to time your visit with the tides, of course (bookmark this tide table).
Are you a bookworm? British Columbia's largest summer gathering of writers and readers happens each August in Sechelt. The Sunshine Coast Festival of the Written Arts (August 13-16, 2015) is held annually at Sechelt's Rockwood Center. Is visual art your obsession? The Sechelt Arts Festival is held annually each October.
Look for those purple banners! The Sunshine Coast is lined with artisans and their studios, and you can do a self-guided tour along the Purple Banner Route, a tour of more than 65 local galleries and artist studios, from glass blowers and potters to master quilters and watercolor painters.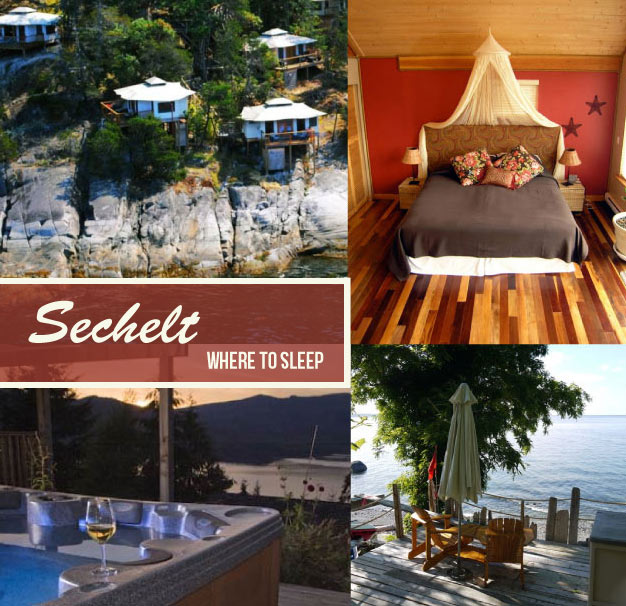 Where to Stay
For the best view from a hot tub anywhere, book the beautiful suite at the Starfish Studio Bed and Breakfast (604-885-7112) in Sechelt. $125 – $149 (CAN).
North of town, Sechelt Inlet Bed and Breakfast (604-740-0776) overlooks the southern swath of Sechelt Inlet, one of the Lower Sunshine Coast's premiere paddling areas. On the morning of our stay here, we stood on our room's deck and spotted a pod of Pacific white-sided dolphins frolicking in the water. The unbelievable view, multi-course delicious breakfast and enormous hot tub helps round out the awesomeness of this family-run inn. $149 – $159 (CAN).
For a massive splurge or a honeymoon, consider the waterfront tenthouse suites that dot a rocky outcrop north of Halfmoon Bay. These luxury tents (from $479 CAN) are the ultimate glamping experience and are part of Rockwater Secret Cove Resort, which also offers waterfront cabins and lodge rooms at lower nightly rates (from $239 CAN).
For a cheap sleep, pack your tent. Porpoise Bay Provincial Park is open to camping year-round, though winter months have limited services. There are 84 campsites, and 62 of them are reservable in advance for dates April 15 – September 14. Reserve your campsite here.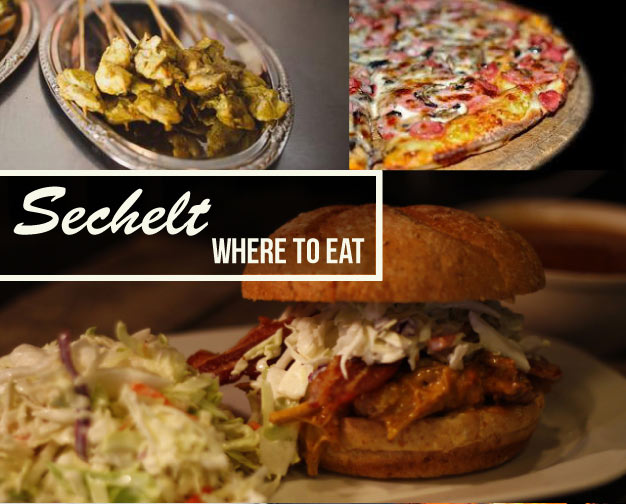 Where to Eat
The Bakery (5500 Wharf Ave in Sechelt) is the top spot for coffee downtown Sechelt, and you might as well pick up some fresh-baked sticky cinnamon rolls while you're there. Most of their menu is much healthier, though, from delicious homemade granola, paleo bars and vegan breakfast cookies to veggie-laden soups and locally-made kombucha tea.
Another must-stop for bean lovers is Strait Coffee (4330 Sunshine Coast Hwy in Sechelt) a cafe and roastery that also serves up healthy, organic lunch fare.
The Old Boot Eatery (5531 Wharf Street in Sechelt) is a laid-back, local joint where you can get pizza or a big bowl of pasta tossed with goodies like homemade sausage or local black tiger prawns.
For a tasty, casual lunch, head to Lucky's Smokehouse (5645 Wharf Ave in Sechelt) where the tangy, tender ribs are slow-cooked to perfection and fall right off the bone. Other popular picks are pulled pork and homemade mac n' cheese. It's one of the best stops for BBQ on Canada's west coast, and you can dine in or take out.
Pick up a basket-full of gourmet picnic supplies at Ty's Fine Foods and Bistro (5500 Trail Ave in Sechelt) or grab a table for a delicious soup-and-sandwich or tapas lunch, all of it made from scratch. Yum. Don't miss this place!
For more on planning travel to the Sunshine Coast of Canada, check out Sunshine Coast Tourism and Hello BC.
main photo: by McKay Savage. Lodging and food photos courtesy of the mentioned accommodations and eateries. Sechelt totem poll by Peter M. Graham. Porpoise Bay by Peter M. Graham. Sechelt Marina seaplanes by Northwest TripFinder, kayaker in Sechelt Rapids by Sally, Sechelt star jump by Larissa Sayer.