I have to say, it's quite thoughtful of REI to have their biggest sale of the year just as I'm planning our summer camping trips and figuring out all the gear we need.
This isn't just a clearance sale–many of the deals are new gear products, discounted as much as 30% off. Check out the sale; it ends May 25.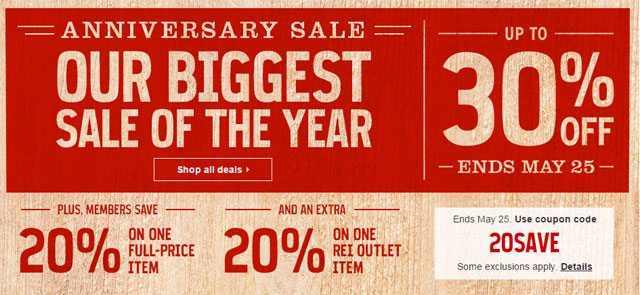 Are you an REI member? Because if you are, there are two big extra incentives to make a purchase during this sale, even if the thing you want is not on sale. Shop online and use the coupon code "20SAVE" to get 20% off of one full-priced item, then use it again to get an additional 20% off one REI Outlet item.  (Not yet an REI co-op member? It's a one-time fee of $20, and so worth it. You can become an REI member here.)
Here are some particularly great deals from the sale.
| | | |
| --- | --- | --- |
| | | |
| If you loathe fiddling with the air pump so you can get a good night's sleep, then forget about it. Sleep on a cot instead. You'll never again worry about waking up sore after all the air slowly leaked out of a tiny hole in your mattress. This camping cot measures 78 x 30 x 6 inches, collapses easily into a carrying bag, and weighs less than five pounds. It's 35% off. Buy it.> | | This sleek, modern meal kit has it all--a bowl/plate combo, lid that doubles as an extra plate, spill-free cup, a spork (that's a spoon/fork combo), expandable cup with lid, two waterproof containers, a cutting board that doubles as a strainer and a harness to keep it all together. Oh, and it's BPA-free. Take the meal kit camping, backpacking, kayak camping, for picnics and road trips. 25% off. Buy it.> |
| | | |
| Coffee tastes SO good at camp out of this vacuum-insulated, double-walled stainless-steel French press carafe. French press is easy—just add coarse ground coffee or loose-leaf tea, then pour over and near-boiling water. Let it steep for 4 minutes then slowly press down the plunger and pour. It holds 20 oz., perfect for about four cups of joe, and keeps it hot for hours. 25% off. Buy it.> | | Got a summer road trip coming up? We use a hardside cooler that goes in the trunk for camping trips, but it's too big and bulky for luinch and snacks on a short road trip. This REI Coolcube Personal Cooler is roomy enough for a large lunch or a small picnic, and there's an outer pocket for utensils and napkins. 43% off. Buy it.> |
| | | |
| If you camp in the backcountry in the Northwest mountains, particularly in the Olympics, you need to store your food in a way that is bear-proof. Most places you can hang the food by a tree branch, but Olympic National Park requires a bear-proof container (those Olympic bears are too crafty for simple bear hangs!) This BearVault BV500 is light weight and large volume. And most importantly, keeps your food safe from bears. It is 25% off. Buy it.> | | Ask any seasoned backpacker what their favorite pack is, and there's a good chance they'll tell you it's an Osprey. They carry weight very well, are extremely well-made, and design features like extra padding on the hip belt and breathable mesh back pads that set them apart. 25% off. Buy it.> |
Thanks for reading Northwest TripFinder. Please see our disclosure statement for info on affiliate links.