Why do you travel? For some people, travel is a way of life.  I know people who've ditched their jobs, hoisted on a backpack, and traveled the world on a shoestring, forever changed. For others, travel is an escape, like the young couple I know who are  saving up all their vacation time to swap this coming Seattle January for the Waikiki version, resort-style (smart kids!).
We travel for different reasons, and we travel in different ways. But we all share common responsibilities when we travel – to lighten our impact, to respect the natural world and native cultures where we visit, and to give back when we can.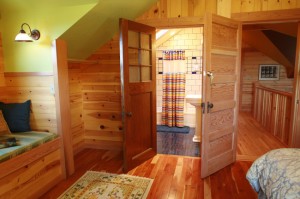 Passports With Purpose is a fundraiser put together by travel bloggers. It's a way to give back, a really powerful way. Last year, Passports with Purpose raised almost $30,000, and built a new school in rural Cambodia. This year, we're supporting LAFTI, an independent, nonprofit organization dedicated to improving the lives of the Dalit (untouchable) population in India. We hope to raise $50,000 to build a village of homes for Dalit people in India.
Participating travel bloggers have procured stellar prizes to help raise the funds. Here's the fun part: you donate just $10 and get a raffle entry for a prize of your choice. Donate another $10 and get another raffle entry. The prizes are truly, impressively awesome – from a Norwegian cruise for two, to airline vouchers, to posh hotel stays, to travel luggage – and you can view them all here. Your chances of winning get better the more raffle tickets you buy for each prize. You'll also have a really good chance of winning a prize if you choose prizes that are more… local. (That's a hint.)
I'm so excited that Northwest Cheapsleeps is participating in Passports with Purpose this year, and of course, we're presenting a terrific prize. How would you like to be the lucky winner of a 2-night stay at the beautiful and comfy Juniper Lane Guest House on San Juan Island, valued at $300?  I sure would, but I'm not eligible to win my own prize. But, you are! To donate your $10 and choose your prize, go here now. The Juniper Lane Guest House prize is listed under "Hotels." Winners will be chosen at random and announced on December 17, 2010. All donations are U.S. tax-deductible.
About Juniper Lane Guest House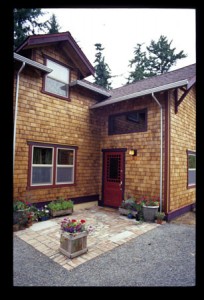 Juniper Lane Guest House is on beautiful San Juan Island, located in Puget Sound between Seattle and Victoria, B.C. This hip and unique boutique Inn is a custom-crafted bold mosaic of exotic woods, tile, art, and color. Nestled on the edge of Friday Harbor overlooking Beaverton Valley, it has a rural feel yet is still close to town. The Inn offers a variety of accommodations that are brilliant and affordable for everyone. All of the rooms are absolutely gorgeous and comfortable. You can read a great review here.
The prize is a two-night stay in either the Real Royale or the Organic Green Tea room at Juniper Lane Guest House, double occupancy. Expires in one year, excludes holidays.  Simply donate $10 to enter the raffle for this prize.The more you donate, the greater your chances of winning.
Thanks so much to Juniper for her generous donation to Passports with Purpose!  Thanks also to Passports with Purpose sponsors: BootsnAll, LiveMocha, Round the World with Us, HomeAway, Traveller's Point, Hostelling International, Quintess, Raveable, TravelPost, and Uptake. And of course, thanks to the organizers of Passports with Purpose, Seattle-based travel bloggers NerdsEyeView, DeliciousBaby, Wanderlust and Lipstick, and WanderMom.