There I was, in the lobby of the Hotel Murano, a revamped boutique hotel in Tacoma's downtown that I had never before heard described without use of the adjective swanky. But I've grown tired of that word, I must confess. And as I sat there the morning after our stylish stay, sipping deliciously strong coffee and casually eavesdropping on the chatter of nearby travelers with their own coffees on their own low modern couches, I heard it.
"It's quite artful, this hotel." Artful.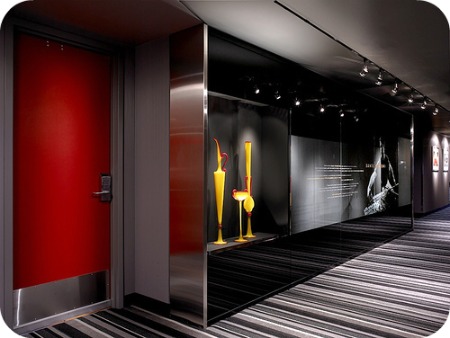 Like many of the newish breed of boutique hotels, the Hotel Murano was once something else–in this case, a Sheraton high-rise. It's renovation is stylish and modern, with clean lines and bold design. Still, the Murano is in a class all its own, a distinction that is at least partially tied to the city's downtown it calls home. Tacoma's downtown core has experienced a rebirth or sorts, certainly a renovation, that has been, I dare say, artful and bold.
If the word Murano conjures glass art for you, then you've already guessed the hotel is named for the region of northern Italy of the same name, known for its bold glass art. Tacoma has long been a hub of  talented and unconventional glass artists, pioneered by Dale Chihuly, a Tacoma native. And so it was that art, particularly glass art, became the centerpiece of Tacoma's successful effort to revitalize its downtown.
The Murano opened in 2008, and has already garnered an international fan base. Indeed, the travelers I spoke with during my stay were not from Seattle or Portland, but from Los Angeles, Chicago, Toronto, and Brisbane, and they were swooning over the Hotel Murano and Tacoma's walkable harborside waterfront, public art, eclectic cafes and great museums. This added a bit of confirmation to a suspicion I'd held – a lot of you folks aren't going to Tacoma for your weekend getaways. And you're missing out.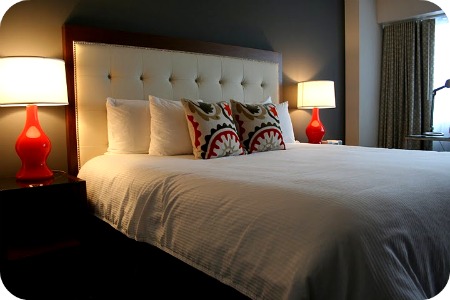 We checked in to the Murano on a drizzly Saturday this past October. It was one of those wet and grey Pacific Northwest autumn days that brings the upcoming winter too close, too soon. Our spirits lifted, though, as we found our bright and beautiful room, with scarlet glass lamps, espresso furnishings, and white-leather headboard. (I may be a cheap sleeper, but I'm also a modernist, and a complete sucker for great design. The Murano has great design.) Our window view was strictly territorial that afternoon, but I knew right where Mount Rainier was supposed to be, looming there behind those clouds. On a clear day, the view from upper floors of the Murano is surely spectacular.
Our two-year old settled in with a cartoon on the flat-screen tv. My husband sprawled out on the bed with a book and a chocolate bar. As for me, my camera and I decided to take a tour.
As wonderful as your room is at the Murano, find the time to get out of it. The hotel's public spaces double as an art gallery. Pick up a brochure for your self-guided tour at the front desk when you check in. Art is everywhere, and each of the 21 floors is dedicated to a different glass artist, telling the story of their displayed work through framed photographs and captions. You'll find the largest concentration of the hotel's art collection in the sprawling lobby, with pieces large and small carefully chosen from all over the world.
The Hotel Murano is right downtown Tacoma, so arrive car-free via Amtrak or Sound Transit and you'll get around just fine. Otherwise, you'll pay for onsite parking (nearby street parking will be cheaper, and free after 6pm and on Sundays).  You'll also pay for wifi in your room, a trend in boutique hotels that I hope we see the end of soon (hint, hint – include it in the price of the room along with the robes and shampoo!) That said, the Murano offers some extras that might keep you happily offline for your weekend, like the invitation to call the front desk for a loaner iPod pre-loaded with the music genre of your choice (each room has an iPod deck by the bed.) And don't forget to reserve plenty of time for a floor-by-floor art tour, not to mention some down time in the beautiful, artful lobby for strong coffee and people-watching.
DETAILS
Rates start at $129/night, but look for specials. Follow the Murano on twitter for reduced fares and last-minute specials, like their offer of $99 rooms during the 2010 snowstorm.
Info: Hotel Murano | (888) 862-3255.
Please note: Our stay at the Hotel Murano was complimentary, but this review is all mine. Read our disclosure notice for more.