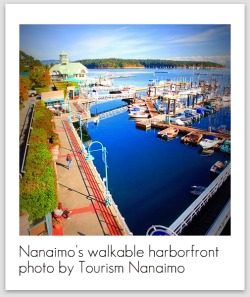 At long last, my Nanaimo Trip Guide is up. Where is Nanaimo you ask? Why, this is the reason you have your passport, silly!
Oh sweet Canada! Nanaimo is nestled on a wonderfully-sheltered swath of eastern coastline on Vancouver Island, just to the North of Victoria. It's a little harborside city that quite blew me away with its charms, which are so many.  I could tell you all about it here, but you might as well just head straight on over to the Nanaimo Trip Guide for the juicy details. The whole Nanaimo region is a fabulous summer destination and easy to reach from the Lower Mainland or the Pacific Northwest, so make those travel plans! And, don't forget your passport.
Speaking of travel plans, our travels have been waylaid of late, hence the month-long lull on the blog.  But, I have more to share (still) from our trip to British Columbia from late last year, so stay tuned for a trip report from our great stay at the Beach Gardens Resort and Marina in Powell River up on the Sunshine Coast. And we've got a few overnight trips coming up out of Seattle, including to the wine country of Woodinville. Salud!
Thanks for reading, and happy travels!