The North Cascades Highway is expected to open on May 1, a pleasant surprise given the incredible snowpack in the Cascades this winter.
The Upper Skagit Valley, the gateway to North Cascades National Park, is a great destination in any season, and especially when Highway 20 is open so that day trips can be made up to the park. In wintertime, bald eagles flock here to fish in the Skagit River, and I once saw over 100 of these birds here in one January day several years ago. In spring you have lovely waterfalls, in summer enjoy warm hiking weather at higher elevations, and in fall, come for the foliage, from fire-hued vine maple to golden larches. Start your visit with a stop at the North Cascades National Park visitors center near Newhalem.
If you've traveled Highway 20 through Skagit County in years past, you may remember passing the cute cabins at A Cab in the Woods, where a bright yellow taxi cab once hailed you from the side of the road. This favorite cheap sleep changed ownership in recent years and changed its name, too, but the cabins are still there, and they're still fantastic.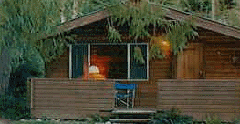 The place is now called Grace Haven (360-873-4106), and if the name sounds vaguely religious, it's probably because it is — the place is sometimes used for Christian retreats, and pastors are invited to stay for half-price anytime. Also, in addition to the board games and magazines provided in each cabin, there is now some Christian literature for your perusal. So whatever your religious persuasion or lack thereof, be forewarned.
Each of Grace Haven's five cozy cabins has a fully-equipped kitchen, living room with futons and a gas fireplace, and a bedroom with a queen size bed. The bathrooms are newly refinished with cedar lined showers (one cabin has a bathtub). Each cabin is stocked with complimentary coffee, tea, hot chocolate, and apple cider.
The charms extend outside the cabins as well. Like to grill? Each cabin has a charcoal grill and picnic table just outside. The grounds were designed with summer vacation in mind–there's badminton and volleyball, a horseshoe pit, swings, croquet and ping pong. Rest between bouts in a hammock or toast marshmallows at the outdoor firepit. Pets allowed at two of the cabins ($10 / night per pet).
Grace Haven's cabins run $80-85 winter / $95 – $105 summer. Discount offered for two or more nights. There are many places to eat in nearby Marblemount, but with the fully-equipped kitchen and cozy fireplace to eat beside, we see no reason to leave.