Olympic National Park is looking like a pretty great destination right now.
I'm wild about National Park Lodges, and my two favorites have some steeply cheap specials going on right now. Lake Quinault Lodge and Kalaloch Lodge on the Washington coast are offering rooms starting at $79 a night. I've never seen them so cheap – even in the middle of winter. Book online or call 1-888-831-0156 for reservations. It looks like the Lake Quinault Lodge rates are valid Sun – Thurs, but you might be able to score that rate at Kalaloch on a weekend visit.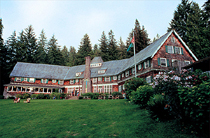 So, which one will you choose?
I like the Lake Quinault Lodge for its beautiful great room, where you can curl up on a chair in front of the grand brick fireplace with a good book (a biography of Teddy Roosevelt, for instance), or share a game of scrabble with some fellow guests after dinner. The Lodge is near several wonderful hiking trails that take you through a Pacific Northwest rainforest wonderland. Go for a main lodge room if you can.
The Kalaloch Lodge is more modern, and right on the ocean. Miles of wild beaches will lead you to all the solitude you could seek. Massive driftwood provides many places along the way to stop and rest your feet.
If you go, bring some extra cash for dinner if you plan to eat at either lodge. Both have nice restaurants that are good standards, but a bit spendy. (If you are a vegetarian, as I am, the pickings are slim.)