Going to see Our Town, Othello or Fences this summer at the Oregon Shakespeare Festival? That's the eight-month season of eleven plays in three theaters that happens each year down in Ashland, Oregon. A handful of the festival's plays are always Shakespeare, with classics by playwrights like Arthur Miller and Thornton Wilder making up the rest.
Ashland makes a fine destination for a long weekend for theater buffs, and everyone else, too. Wonderful parks, good restaurants, and picturesque neighborhoods give Ashland a leg up on some other towns in southern Oregon as destinations. Just outside of Ashland is the Rogue River Valley, fertile farmland surrounded by mountain terrain with plenty of hiking, river rafting, cross-country skiing and wine-tasting.
The downside? Ashland's many higher-priced B&Bs and inns cater to travelers from all over the country who come for the Shakespeare Festival. Cheaper sleeps can be found, though.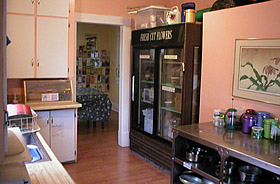 Start with one of Ashland's best bargains, the Ashland Hostel, a clean, friendly and private hostel set in a large home. It offers dorm-style accommodations ($28) and a few private room choices ($36 – $59). You'll share a spacious common space and kitchen with your fellow guests, who will likely be of all ages. It's a nice layout for a hostel, and in the heart of Ashland. Amenities include laundry facilities, showers, separate dorms for men and women, bike storage, internet and wifi, and phones. The Shakespeare Festival is just blocks away. (541) 482-9217 or www.theashlandhostel.com.