It's May. It's time to get some sun!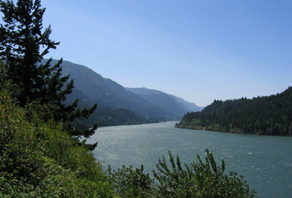 But after all that sunny hiking, one needs a place to sleep. Terry Richard with the Oregonian recently blogged about Columbia Gorge campgrounds with a good chance of sunshine.
If camping isn't your thing, but is in your price range, opt for the Columbia River Gorge Hostel (509-493-3363) in Bingen instead. Housed in a historic CCC construction schoolhouse, this hostel provides dorm-style accomodations or private rooms for a bargain ($19 – $49), especially considering the dramatic setting and proximity to recreation opportunities up and down the Gorge. The hostel houses a wooden-floored gym with basketball court, a kitchen guests can use, parking, lockers, and blackboards in rooms.
In Lyle, check out The Lyle Hotel, a quaint, a 10-room historic railroad hotel. Every room is tastefully and uniquely decorated. The rooms share five bath. There's a fine dining restaurant and bar downstairs. Rates are $85/night plus tax, based on double occupancy (additional persons in the room at $10 each) and a wholesome continental breakfast is complimentary for guests. 1 (800) 447-6310.
Want a few more amenities? Splurge a little more. The Columbia Gorge Riverside Lodge in Stevenson (866-427-5650) has eight themed studios in four modern log cabins nestled in the woods along the bank of the mighty Columbia River. Each studio is uniquely and tastefully themed to reflect natural beauty and cultural diversity. All but one of the studios are well under $100 a night (most are $74) and steep discounts are offered for off-peak season stays. The studios have fully-equipped kitchenettes, gas fireplaces, shared spas, and outdoor decks facing the river. Nice value!
Enjoy the sun.