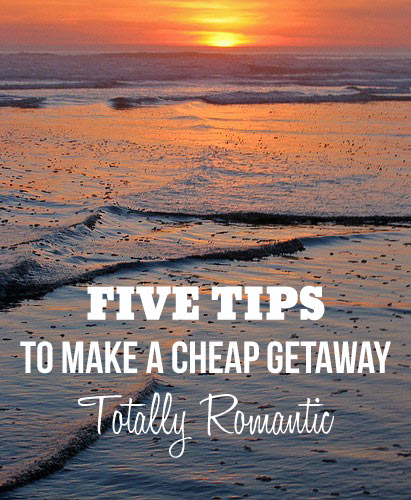 Valentines Day is upon us! These next couple of weekends might just be the perfect opportunity to whisk away your sweetheart for a romance-filled weekend to some secluded cabin or cozy inn.
Of course, booking your Valentine's weekend is your first step toward romance. But what if you're really on a budget? Like, so on a budget your choices are basically a boring roadside motel or rustic campground yurt?
If your wallet is lightweight these days, your sweetheart will probably not be anticipating caviar and Moet. But he/she will expect romance. And the good news is, it need not cost you $100 an ounce.
Here are five key ingredients to a recipe for a very romantic, "cheap sleep" getaway:
1. Get outside. Never mind that it's February. Nothing inspires romance like a foray into nature. Pick an easy, snow-free hiking trail or natural city park near your motel or rental yurt. Try to find a trail with a waterfall to gaze at, a pond to cuddle by, or big trees to snuggle under. In addition to the ten essentials for hiking safely, into your backpack should go the following: a thermos of hot chocolate (with marshmallows, whiskey optional), a dark chocolate bar, a generous warm wool blanket or two (one to sit on, one to cuddle under), and a toasty hot water bottle. (You should be able to figure out what to do with these items).
2. Bring mood lighting. It's a well-established fact that approximately 67% of all cheap sleeps in the Northwest have room lighting that is severely lacking in ambiance. Under ordinary circumstances, that buzzing fluorescent bulb is just annoying. But on a romantic getaway, it can be disastrous. The key is to BYOBL for mood llighting. (That stands for "bring your own bedside lamp"). And if the establishment allows candles, well then bring those, too! Otherwise, these faux candles will do wonders for a badly-lit motel room.
3. Make music together. My husband and I fell in love over his guitar. Pack your favorite instrument (even if it's just a pair of DIY maracas), print out some song lyrics, and have fun. For free!
4. Pack wisely. There's nothing like bringing a fabulous bottle of wine to a secluded cabin only to find there's no corkscrew. Anticipate all of the things you will need for your weekend and be sure to pack them. You will need matches for that woodstove, a cozy fleece blanket from home to replace the worn bedspread, and some tunes on your iPod for dancing after dinner. Does he like coffee the second he wakes up? Bring a plug-in coffee maker. Does she like to take long baths? Surprise her with bath salts and a candle. And don't, under any circumstances, forget the dark chocolate.
5. Eat in. Nothing says "I love you" like a warm bowl of fettuccine with brown butter and sage you made yourself. (Okay, maybe that's just me). Obviously, such a grand act of affection requires a stove. But if you're lucky enough to snag a cabin rental or motel room with a kitchenette, go for it. I think it's totally romantic, not to mention way cheaper, to prepare a simple but delicious meal together instead of eating out at a pricey, crowded restaurant on Valentine's Day. Get a great bottle of wine, a prepared dessert at your favorite bakery, and an easy appetizer like goat cheese, crackers and smoked salmon. Then all you have to worry about is the salad and main course.
Whatever you end up doing with your sweetheart, have a great time together. (And don't forget the chocolate!)
Photo of sunset from Third Beach, Olympic National Park by pfly.