The holidays are upon us. Whether you give lots of gifts this time of year or spread your generosity across the seasons, you might find yourself stumped over choosing the perfect present for the local traveler in your life.
Here's a little guide to some of our favorite things for local travelers this year. Whether your giftee is an avid hiker or an urban explorer, we've got you covered.

GIFTS FOR: The Trail Blazer
1. The ultimate North Cascades book – The outdoor lovers in your life will surely enjoy their very own copy of the year's best coffee table tome, The North Cascades: Finding Beauty and Renewal in the Wild Nearby, released this year in honor of the 50th anniversary of the landmark Wilderness Act. $24 at amazon.com
2. Fort Bandana – Snowboard in comfort and style with one of these cool handmade bandannas from a new Seattle gear company. The face cover comes in ten eye-grabbing prints, it's velcro-adjustable, and one-size fits most. On sale for $16 at fortgear.com
3. Earthlust limited edition water bottle – These BPA-free stainless steel bottles are not only safe to drink out of, the natural and botanical motifs are gorgeous, too. $17 at amazon.com
4. Fjallraven Kanken 17 Backpack – Fjällräven is a Swedish company specializing in rucksacks since the 1960's. This Kanken 17 Backpack will take your favorite hiker from trails to alpine lakes on the weekend to bus commutes downtown on weekdays, thanks to extras like a removable seat pad, padded shoulder straps and special laptop sleeve. From $53 on amazon.com
5. Ora's Amazing Herbal All Purpose Salve – The backcountry can be a rough and tumble place. From nasty scrapes to stingy sunburn, this all-natural herbal salve will provide instant and long-term relief for your favorite hiker, and keep them smelling like a garden. $20 on amazon.com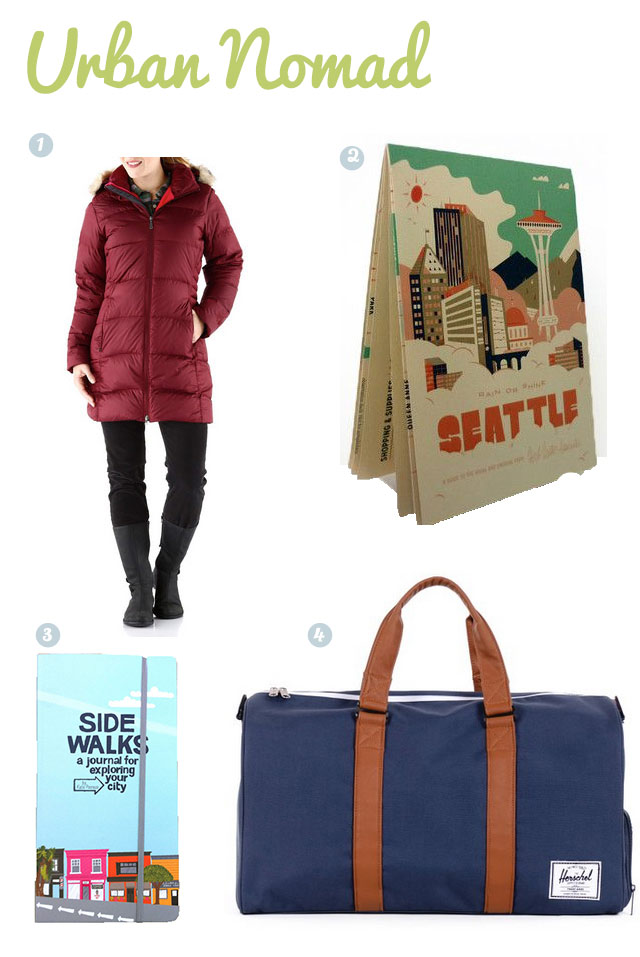 GIFTS FOR: The Urban Nomad
1. Mountain Hardware Downtown Down Coat – Keep your city weekender toasty warm into springtime with this long, stylin down coat, hooded and lightweight with 650-fill-power down. Oh, and the coat has fleece-lined pockets, essential but rare in down coats. $260 on Amazon.
2. Herb Lester City Maps – While you might not think high design is important in a tourist map, these beautiful fold-able travel maps will change your mind. I find the modern design to be very inspiring and engaging. Recommended neighborhoods, parks and bars go way beyond the usual touristy suspects. They're affordable enough to gift maps to both Northwest cities to your urban traveler. $7 each for Portland and Seattle.
3. Sidewalks: A Journal for Exploring your City – I love how this journal gives you all the right prompts and inspiration for becoming a savvy tourist in your own city, and helps open up a whole new perspective on the place you call home. It's a perfect gift for any urban-dwelling Pacific Northwesterner. $13 at amazon.com
4. Herschel Supply Co. Novel Weekender Bag – This Vancouver, BC company brings classic, preppy design to its functional assortment of travel bags. This weekend tote is the perfect size for that quick trip down to Portland or up to Vancouver on the train. For an extra special gift, tuck an Amtrak gift card into the side pocket. $80 on amazon.com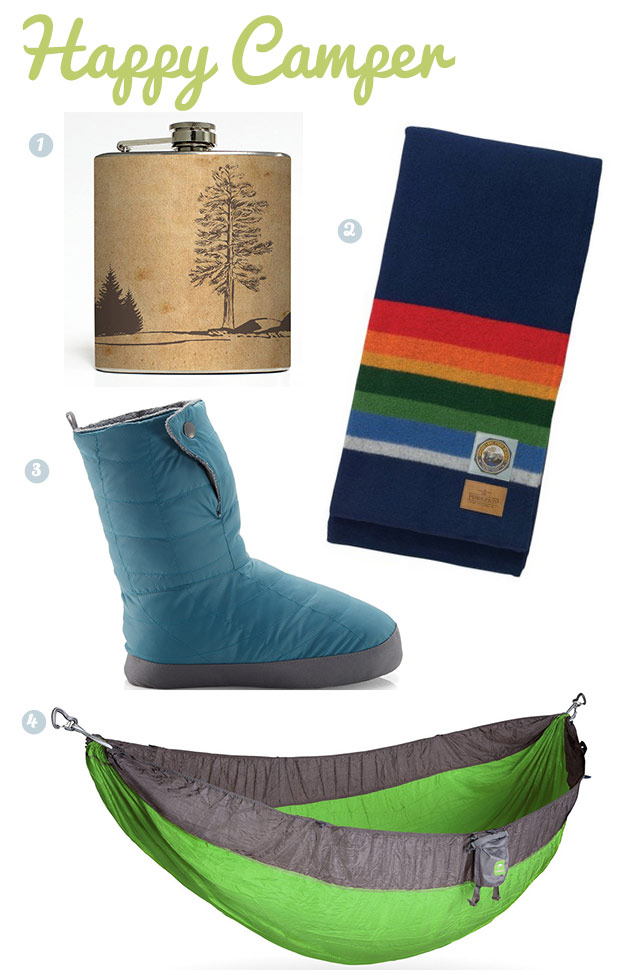 GIFTS FOR: The Happy Camper
1. Rustic Tree Flask – A flask just may be the perfect gift, but gifting one to someone is risky because – what if they already have one? Well, there's always room on the shelf for another one if it has a beautiful naturescape on it, like this rustic flask with a handmade design from Tennessee. Several other unique designs available. $20 on Etsy, backcountry campfire not included.
2. Pendleton Crater Lake National Park Blanket – What a lovely (and warm!) keepsake gift this would make for your favorite National Park-loving camper. This beautiful blanket is Made in Oregon (woohoo!) with 100% pure virgin wool and measures 80 by 90 inches in size. Pendelton makes a similar blanker for Mt. Rainier National Park.  $193 on amazon.com
3. REI Down Booties – Get them while they're hot, or rather when it's cold… outside. These toasty-warm REI Down Booties are a dream gift for cold-footed campers (hint hint to my husband). $44 at REI.com
4. Kammock Roo Hammock – Set up this great camping hammock for afternoon lounging with a great book or overnight sleeping under the stars. Roomy enough for two campers, the Roo has a maximum capacity of 500 lbs. It is equally comfy when set up right in the backyard. $99 at REI.com