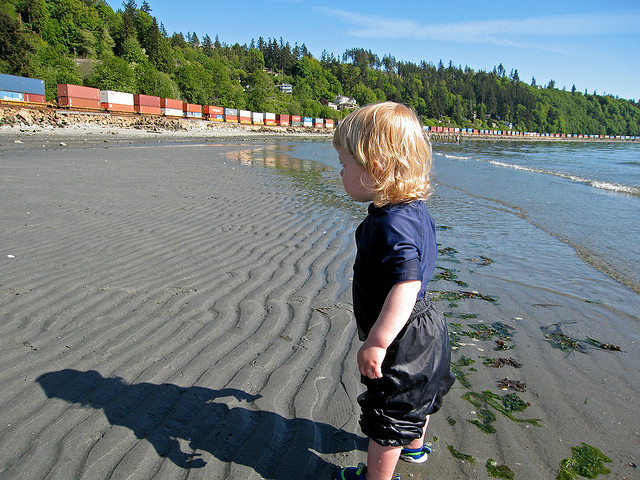 The waterfront retreat known as Picnic Point Park is aptly-named; come on a sunny day or a clear evening near sunset and you're going to spot plenty of couples on blankets with picnic baskets. It's just a perfect spot for a romantic rendezvous.
And at low tide, it's the perfect spot for beach-combing.
Set on the shores of Puget Sound between Mukilteo and Lynnwood, Picnic Point gives great views across the Sound to Whidbey Island and the Olympic Mountains. The sunsets from here are legendary.
One quirk of this park's beach is how you reach it. After you park your car, you must walk across a large pedestrian overpass that safely takes you over the railroad tracks. This overpass is wheelchair and stroller accessible. Kids will enjoy watching the passing trains from this unique vantage point, though if you are wary of heights you'll probably want to just hurry across it. You can also see passing trains once you're on the beach.
The park is quite lovely in autumn when big-leaf maples lose their leaves and carpet the grass in yellow.
Driving Directions: From the intersection of Hwy 99 and 128th Street SW, go south 2 miles; turn right onto Shelby Road; go west 1-1/3 miles to a Y intersection; bear right onto Picnic Point Road approximately 1-1/2 miles to park entrance.
Contact the park: (425) 388-6600 | website
—> Share your story of this park! Leave a comment below.