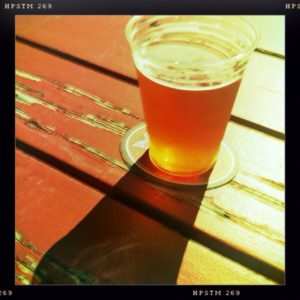 A couple of tall, frothy IPAs and  a basketful of cajunized tater tots sat atop the weathered red picnic table during the Yardhouse Pub's happy hour. Nearby, our toddler frolicked in a patch of splendid green grass. Although only minutes had lapsed since we'd arrived at the McMenamins Grand Lodge, our vacation was off to a grand start.
I soon realized we weren't the only parents who decided on a family vacation to a hotel that houses two brewpubs. The lawn was dotted with playing toddlers.  "This is totally the place to come when you have a two year-old," said a woman to her husband at the table behind us. At another table nearby, an infant was asleep in his father's arms as he (the father) nursed a stout.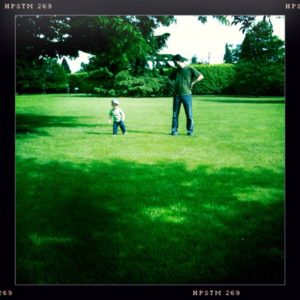 It's not that the Grand Lodge is intentionally kid-friendly, at least not beyond the green grass to play in, the kids' menus and the high chairs. But the Grand Lodge is parent-friendly, in unexpected ways.
It's the kind of place you can book a night or two and just… stay. The rooms aren't big and the gender-separate baths are shared (which keeps this place very affordable). And that's okay, because there's plenty to do outside of your room.
Play a round of Frisbee golf after breakfast, then nap under a big oak tree. After lunch at the outdoor pub, Dad plays outside with junior and Mom gets a facial at the on-site spa (at least, I imagined such a scenario). Choose a different pub or the wine bar for dinner and enjoy some live music while you eat. And the best part? "I don't have to do any dishes!" my husband happily exclaimed. There's also a huge stone-lined soaking tub outside, and a movie theater upstairs (they were showing "Date Night" during our stay, and Brian stayed up to watch the late showing after Isaac and I went to bed.)
I'd previously visited other overnight accommodations that are part of the Portland-based McMenamins brewpub and hotel empire, including the Edgefield and Kennedy School. While they're in line conceptually with the Grand Lodge (McMenamins bought a neat, historic old building and restored it into a unique destination resort of sorts), they're each a little higher in their rates, and a bit more adult in their atmospheres. The Grand Lodge in Forest Grove, for example, has just one no-minors bar, not four. We brought earplugs, and surprisingly didn't need to use them. The atmosphere was fun and festive (there was live music in the wine bar downstairs, and two weddings on-site when we were there) but I didn't get the sense that people were there to "party" – you know? The music ended before 10pm, and so did our day, restfully and quietly. My only regret about our short stay at the Grand Lodge is that I didn't actually get that facial at Ruby's spa. Fortunately, there's always a "next time."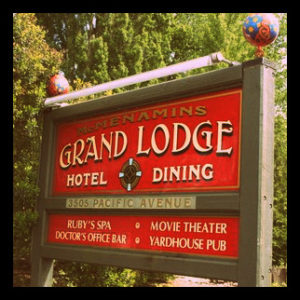 By the way… speculation that the Portland-based brewpub and hotel chain  McMenamins will soon open a hotel in the Seattle area always gets me excited. Remember a few years back when the McMenamins brothers were quite interested in the awesome old Catholic seminary at St. Edwards Park in Kenmore? You
know
the walls of that old St. Edwards monastery hold secrets, and there are closet skeletons just screaming to come out. Regrettably, neighbors shot it down, some proposing the building instead be used to store state archives. (zzzz…..) The most incredible thing about McMenamins' small crop of unique destination hotels, all in interesting, historic buildings that have been lovingly restored with the utmost care, is that the public gets to
experience
these places and their history. I'd really love to see a similar destination resort in the Seattle area.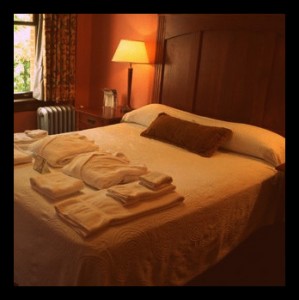 To book your stay at the
McMenamins Grand Lodge
in Forest Grove,
visit their website
or call them at (877) 992-9533. Our room, which included a queen bed with a closet and sink is $89 a night. Shared bath is down the hall, and terry robes, towels and soaps are all provided. Pack earplugs, just in case.
Disclosure note: Our one-night stay at the McMenamins Grand Lodge was complimentary.