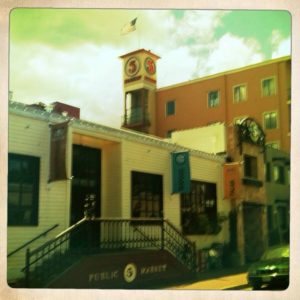 Growing up, I always wanted to live in a college town. The quintessential college town of my childhood was Madison, Wisconsin, with wonderful city parks, real espresso (this was 1990, people), vibrant street scenes, great college radio and rampant campus activism. As a midwesterner, I loved Madison. And now as a Northwesterner, I love Eugene. It is the quintessential college town of my beloved Pacific Northwest.
Eugene sits at the southern tip of Oregon's Willamette Valley. It's a smallish city with a big reputation for a lot of things I happen to like, from great local food co-ops to a cool public market. Eugene is known for excellent microbrews and friendly eco-consciousness. So when my family set out on our weeklong road trip through western Oregon a few weeks ago, there was no doubt we'd be making a stop in Eugene.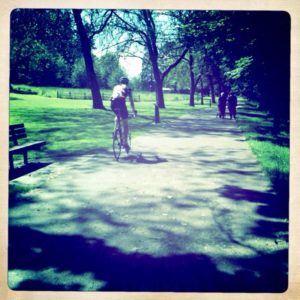 First we hit the Eugene REI for some sunblock. Our day in Eugene was unexpectedly warm, bright and sunny. After a few cups of coffee, we headed straight to Skinner Butte Park, a riverfront greenspace where some of Eugene's 50 miles of well-used bike paths and hiking trails pass through. It's a terrific place for people-watching, and the poured-foam children's play area is phenomenal. Oregon's Willamette River pushes through here with power and is lined with deciduous forest that provide superb urban bird habitat; we saw and heard several warblers, hummingbirds and thrushes.
Though we'd not planned to spend the bulk of our Eugene afternoon at Skinner Butte Park relaxing on a blanket in the sun as we watched the female cottonwood trees shed their fluff onto the grass around us, that's just what we did. And a splendid afternoon, it was. Then we hit the road
South of Eugene sits a much smaller town called Cottage Grove, known for its historic covered bridges and building murals. We arrived eager to score some of this year's heirloom seed varieties from Territorial Seed Company, which is based here. I was particularly interested in their Orange Mini Chinese Cabbage and Matina Sweet Lettuce for my winter vegetable garden. When we pulled into the lot, we saw they'd just closed up shop for the day.  So with hours of daylight left, we chose to explore Cottage Grove's other main attraction – covered bridges.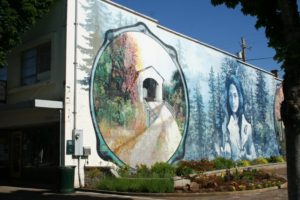 Cottage Grove is, after all, the "Covered Bridge Capital of the West." There are six of them, all a few minutes from downtown. Want to go for broke? After your tour, top it off with crab cakes and a glass of local wine at Stacy's Covered Bridge restaurant downtown.
Where to Sleep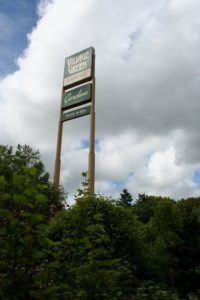 When I phoned my Mom and told her we were staying at the Village Green Resort (1-800-966-6490) in Cottage Grove, she chuckled. The she said, "Okay, so where are you, really?" See, I'm not exactly the "resort-type." But there we were, at the Village Green Resort, relaxing and enjoying every minute of the place.
Truth be told, this place isn't really what I'd call a "resort." Village Green is a unique, cool, affordable motel set beside Interstate 5.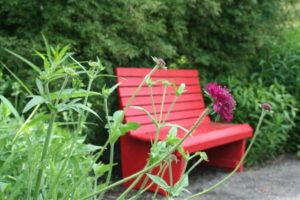 The star attraction here are 17 acres of individual gardens, each one themed and lovingly labeled, appreciated up-close from a series of winding paths and colorful benches. The gardens range from native to whimsical. I found myself truly enjoying the bit of calm and respite we experienced when touring these gardens, completely forgetting that the interstate was just a few hundred feet away from us. In the warmer months, you can cool off with a dip in the kidney-shaped pool, and in the evening you can wind down with a cocktail in their lounge (or take your drink into the lobby and enjoy it in one of their overstuffed leather couches by the fire, as I did.)  A continental breakfast is included with your stay.
Three quarters of the rooms at Village Green are recently remodeled (pottery-barn style) and those are the rooms you want, hands-down. Ours was a deluxe king with a gas fireplace and spacious patio that looked out over the gardens. The rate is around $119.
Another terrific place to lay your head in Cottage Grove is the Apple Inn Bed and Breakfast ($119 – $139), set on 200 acres of forest land with walking trails. Their two rooms each have a private bath, there's a hot tub, and they serve a gourmet breakfast. Don't forget to mention their listing on Northwest TripFinder and get 10% off your two-night stay.