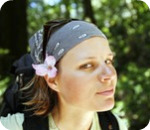 I'll happily pitch a tent almost anywhere when I am sleeping outside. But when it comes to indoor accommodations, I can be a hard person to please.
Too many bed and breakfasts go crazy with floral prints, or cabin themes, or what have you. Go corporate and you can get stuck under a terrible watercolor painting – eck! My preferred establishments are definitely clean-lined modern affairs, but if it is too posh, I end up feeling indulgent and guilty. Hard to please – see what I mean?
So there I was, planning a weekend trip with my honey to San Juan Island, when I stumbled upon Earthbox Inn and Spa. "Carbonfree Travel," it said on their website. Convenient location. Free bikes. No floral patterns in sight.  I decided we'd try it.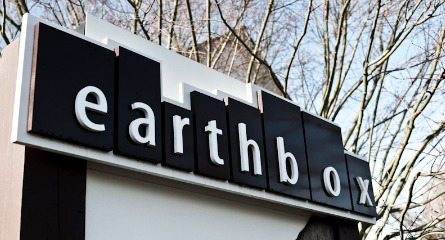 Earthbox is located just three blocks up the road from the Friday Harbor Ferry Terminal. As such, we saw no need to drive on to the ferry, figuring that if and when we wanted to explore further, we'd bike or take a taxi. Plus, this saved us a bundle of cash.
First things first. Those jewel-toned pedal cruisers you see on their website, free for guests to use – they're really there. And, they are oh so much fun to ride! After a bike romp around the town, you can pour yourself a drink at the bar in your room. Perfect! Or, if you prefer to have you happy hour out and about, the Earthbox Inn is within walking/biking distance of Friday Harbor's many bars and restaurants. (Check out our San Juan Island Trip Guide for suggestions).
Now about those modern rooms. A rather sizable bed filled much of our room, and it was worth every inch. Lying down in this bed was like being absorbed in a cloud of softness. I was tired. It was perfect. It may well be the most comfortable bed I've ever slept in. This is decidedly different from camping, I thought.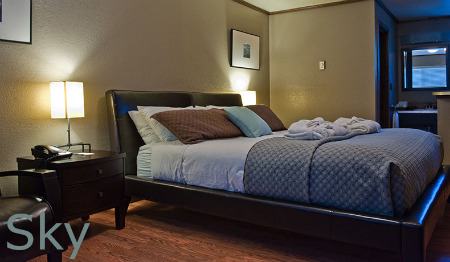 One of the things I like most about earth-friendly Earthbox is that it's a revamped old motel for today's savvy travelers. Motel recycling, if you will.  Our modern room's past life as a run-of-the mill motel room was almost unnoticeable – almost. The bathroom was small enough to give one a claustrophobic pause. And to reach the central pool house, you have to cross through the parking lot. Wait – did I mention the indoor poolhouse? A motel rarity in the Pacific Northwest, Earthbox boasts a basic but enjoyable heated indoor pool and jacuzzi, sauna, and weightroom. (At least, I think there was a weightroom, but I can't be certain. That would be exercise, and I was here to relax.)
Then again, with the great robes Earthbox gives you to snuggle up in, you'll soon forget your treacherous crossing of the parking lot to get to the toasty sauna. And, the exceptional bath products they provide you with – healthy herbals made of quinoa, amaranth, and flax – help make up for the smaller bathroom.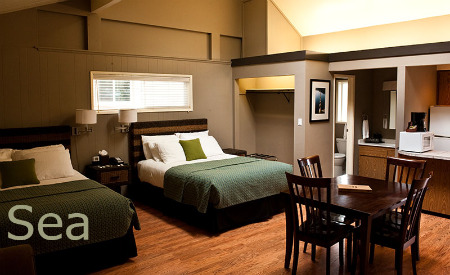 All in all, Earthbox Inn and Spa was a a fine find and great value for our rainy weekend on San Juan Island.
Details: Rooms at the Earthbox Inn are generally $150- $200, but look for specials. Online at earthboxinn.com or call 1-800-793-4756.