From a mod tea kettle to the best wool blanket any campground has ever seen, we've scoured the web to find some great current deals on camping gear.
CAMPING GEAR
DEAL: $16.95 (usually around $23)
WHY WE LOVE IT: The sleek lines and industrial look match our mod attitudes. Oh, and its very light weight and a great price.
SPECS:
-Ultralight 32-ounce backpacking teakettle made of Halulite -Proprietary aluminum alloy heats water quickly and evenly -Hard anodized surface withstands scratches and abrasions -Coated bail handle and lifter; holds ultralight stoves inside -Measures 6.3 x 3.2 x 6 inches (W x H x D); weighs 5.8 ounces
Buy it on amazon.com
DEAL: 40% off at $45.75
WHY WE LOVE IT: Frequent campers appreciate having a sturdy log carrier to haul wood from the campground host's site to "home" camp. This one is cool enough to make it a piece of family heirloom camping gear!
SPECS: Reinforced riveted seams and extra long handles make this log carrier tough enough to haul extra heavy loads of firewood into your campsite with ease (or fireplace at home).  Measures approximately 15″ wide x 29″ long.
Buy it on amazon.com
DEAL: 30% off at $22.94
WHY WE LOVE IT: It adds a splash of retro to your morning picnic table. All the candy-hued colors this percolator is made in are beautiful, but the cherry red enamel is our fave of the moment (and it's a bit cheaper than our other favorite color, chartreuse.)
SPECS:
Makes 8 cups of great coffee. Made of steel construction with a classic red enamel coating for extreme durability Dishwater safe and perfectly suited for indoor and outdoor use. The Lexan dome to view the perc is unbreakable and safe Great for outdoor use at the campsite.
Buy now on amazon.com
DEAL: 31% off at $319
WHY WE LOVE IT: There aren't many blankets out there of heirloom quality, but this one will stay in your family for years– on camping trips, autumn wagon rides, in the bleachers at football games or at the family cabin. It also makes a very special gift for a wedding or graduation. The time to buy it? When it's on sale!
Specs: Queen size (72 by 90 inches) Woolrich offers Hudson's Bay point blankets under the official license of the historic Hudson's Bay Company. It's 100-percent wool  and extremely high quality. Like those sold in the 18th century, this blanket is made in England with wool blended from sources in England, Wales, New Zealand, and India. Each type of wool is selected for qualities that help create a water-resistant, soft, warm, and strong final product. The wool is dyed before it is spun and then air- and sun-dried to brighten the colors.  Imported. Dry clean.
Buy it on amazon.com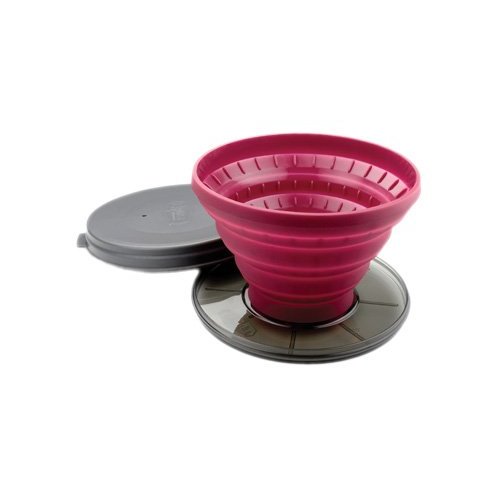 DEAL: 75% off right now at $12.54
WHY WE LOVE IT: Because we love coffee, and a reliably great cup of coffee is what gets us out of a warm sleeping bag in the morning! Its compact and lightweight enough for backpacking trips, useful enough for gourmet picnics.
SPECS:
-4 Filter capacity brews 1-12 cups of coffee -Collapsible silicone bellows design expands from 1-Inch high, 5.6-Inch diameter disc to a stur -Unique, fit-ring design centers drip cone over mugs, cups and wide mouth water bottles for stable spill free brewingdy, full height drip cone -Weight 4.8-Ounce -Includes collapsible 4 drip cone, snap-on cover
Buy it on amazon.com
Outdoor Apparel
DEAL: The regular price is $119, it's now 50% off at $60.00
WHY WE LOVE IT: Because our expedition-weight Patagonia Capilene items are the first things we pack for a backpacking trip. And a kayak paddle. And a snowshoe excursion. And they get a lot of wear on neighborhood walks, too.
SPECS: This full-zip top keeps your core temperature constant by dispersing moisture when you're moving and trapping body heat when you're stopped. Made of Capilene® 4 Expedition Weight fabric – the warmest in the Capilene family – it is soft, stretchy and compressible, and has a smooth jersey face that glides beneath layers and a brushed-fleece interior that warms, wicks, and feels smooth against the skin.
Buy it at Patagonia.com
DEAL: 50% off at $40
WHY WE LOVE IT: This is the perfect dress to squeeze into your pack for a backpacking trip through Europe, or a surfing vacation to Hawaii, or a birding trip to Mexico. If you're traveling super light but need just one item of wrinkle-free "nice" clothing for a night out dancing or a fancy bistro lunch, this is a great dress to have on hand.
SPECS: The ultimate travel dress is made from a wrinkle-resistant blend of 55% organic cotton, 35% recycled polyester and 10% spandex that retains its charm in otherwise irritable conditions. Shirring detail enhances the flattering V-neck; center-front gathers cinch the waist. A self-fabric belt ties at side seams, providing adjustability. Front hip pockets. A-line hem falls above the knee.
Buy it on Patagonia.com
Hey there. These links are affiliate links. You pay the same price, and we get a small commission for referring you. Shop these products, and you help us pay our website hosting fees this month. Thank you!
Also, prices are as we state them at the time of publication.