Please note! We've added a festivals and events calendar! Event organizers – you can submit your tourism-related festival or event right here for FREE.
Well, the weather outside is splendid! From birdwatching to food carts, May is promising to be a pretty fun month in the Pacific Northwest.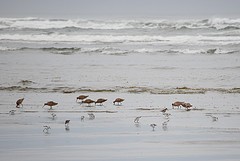 Grays Harbor Shorebird Festival, May 4 – May 6, Ocean Shores, Washington
Grab your binoculars and spotting scope! Each Spring, hundreds of thousands of shorebirds stop to rest and feed in Grays Harbor estuary on their migration northward. This concentration of birds offers people a great chance to view a number of shorebird species, and with luck, to see the birds fly together in beautiful formations while trying to escape the fastest creature on earth, the Peregrine Falcon. At Grays Harbor NWR, shorebirds can be viewed best during the period about 2 hours before to 2 hours after high tide. During high tide, birds are closer and more concentrated for better viewing.
Seattle Mobile Food Rodeo, May 6, Fremont neighborhood in Seattle, Washington
Do you nosh on street corners? You're not alone. Mobile food, also called food carts, are hot all over the west, from Portland to Vancouver. Seattle's food cart scene comes together for a major day of mobile food at the 2nd annual Mobile Food Rodeo, happening Sunday May 6th in Fremont. Eat from 35 food trucks, free admission, a beer garden, all ages – come hungry!
Northwest Paddling Festival, May 12, Sammamish, WA
The Northwest Paddling Festival is shaping up to be an awesome event this year with over 60 vendors, $5 per-person kayak demos and fun activities for the whole family. Compete in a sea kayak packing contest (can you get all your dry bags in your boat while the coffee is brewing?) Kids can discover the great outdoors through a maze sponsored by REI. Take a 30-minute sea kayak tour of the Lake Sammamish shoreline, and much more.
Gig Harbor Beer Festival, May 12, Gig Harbor, Washington
Love craft beer? Don't miss the Inaugural Gig Harbor Beer Festival on May 12, noon – 7pm at the Uptown Gig Harbor Pavilion. The Festival will feature a wide variety of Northwest craft brewers offering event-goers a splendid mix of familiar favorites and new brews to taste. Area restaurants will offer patrons a wide variety of food to choose from. 21 and over only, $20 admission. The Festival will also feature music, raffles, and more. Proceeds benefit the Greater Gig Harbor Foundation.
Tualatin River Bird Festival, May 18-20, Tualatin, Oregon
Just miles from Portland's urban core, a sprawling wildlife refuge is a haven for both wildlife and people. The Tualatin River National Wildlife Refuge is set within the marshy floodplain of the Tualatin River, and its richness and diversity of habitats support a variety of bird species – 200 species. The refuge is also home to over 50 species of mammals and 25 species of reptiles and amphibians. See the birds of Tualatin and learn all about their behaviors and habitats at the Tualatin River Bird Festival. This 3-day event has bird walks and tours, family-friendly activities, nature photography and art workshops, and winery eco-habitat tours. There's even music and food.
For the full list of May tourism event and festivals, including Folklife and the World's Biggest Garage Sale, check out our events calendar.