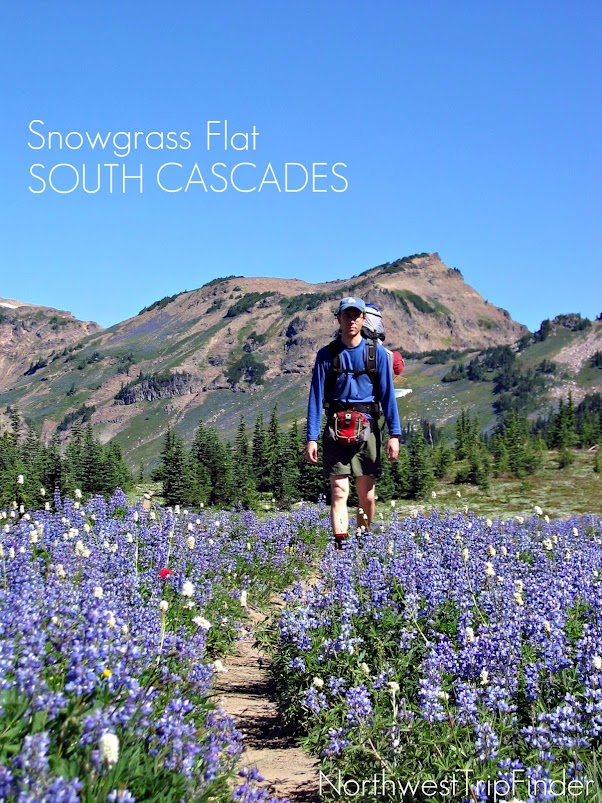 Have you heard the rumors that the Goat Rocks Wilderness in Southwest Washington is a popular spot for hiking? Believe them. And boy, are there reasons a-plenty! This loop is a classic hike of intense beauty and grandeur.
Snowgrass Flat – Goat Lake Loop is 13-miles round trip and climbs a total of 1900 feet in elevation – perfect for an overnight backpacking trip, even for a first-time backpacker. The elevation gain is gentle and gradual, the maintained path is well-signed, and there are near-constant views to keep it interesting.
I think the loop is best done counterclockwise, beginning and ending at the Snowgrass trailhead. It can be done as a one-day hike, as we have witnessed several people doing, though the meadows and views here are so outstanding you will enjoy a more leisurely pace to literally stop and smell the wildflowers.
There are possible sidetrips to make a longer hike if one desires – over to Cispus Pass, up Old Snowy along the Pacific Crest Trail, up the Lily Basin Trail, and others. If you stick to the basic 13-mile loop, you'll find it written up in several guidebooks, including 100 Classic Hikes in Washington by the Mountaineers Books.
Snowgrass is quite possibly the busiest Wilderness trail we've ever been on, which is a little surprising considering the distance (3+ driving hours) from both Seattle and Portland. It's reputation as a fine hike is no secret, but its popularity also has something to do with the narrow snow-free window within which you can hike this trail. You'll always want to check current conditions, but this trail is usually melted out by the very last week in July and remains snow-free until late September – that's only about seven or eight hike-able weekends.
Got your wildflower guidebook handy? Snowgrass puts on one of the most colorful wildflower displays I've ever ever had the pleasure of seeing. I've never smelled such a sweet aroma from a field of Alpine Lupine before. It was stunning. I loved the fuchsia Lewis' monkeyflower in clumps along creeks, and the mix of both magenta paintbrush and cliff paintbrush, which are scarlet in color.
If you don't spend your whole hike looking down at the beautiful carpet of color, you'll look up to snow-capped volcanoes like Rainier, Adams and St Helens against a blue, blue sky. Oh, and there is a gorgeous lake, Goat Lake, and people love lakes. Evidently, dogs love lakes too, as there were six of them swimming in this lake when we last hiked this trail. I almost filtered my water twice after seeing that. (No, it is not okay with the forest service for people to let their dogs swim in this pristine alpine lake, but budget dollars for enforcement are hard to come by on federal public lands these days. So if you have a dog, be smart and kind, and please keep them out of the lake.)
If you're as fanatical as we are about carrying topographic maps on your hikes, you'll notice that this trail straddles 4 different Green Trails maps – Blue Lake, Packwood, Walupt, and White Pass.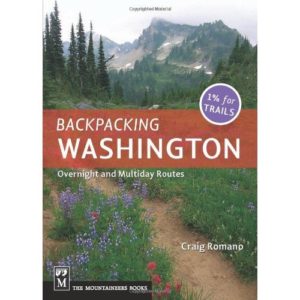 The Hike and Where to Camp: If you depart from the trailhead after driving here, it'll probably be early afternoon. You'll enter the Goat Rocks Wilderness almost immediately, then enjoy the relaxed pace and flat trail for the first few miles through a nice forest. The trail begins to climb after the bridge over Goat Creek, but the climb is shaded and gradual and overall–just really nice. You will pass a junction with the Bypass Trail which would take you over to the PCT if you wanted to head south to Cispus Pass. There's another trail junction which goes east to the PCT and Old Snowy or north on the Lily Basin Trail. There are several campsites at this junction. If none are available, continue on (now on the Lily Basin Trail part of the loop) and there will be more campsites before the trail reaches Goat Lake and just after Goat Lake. After the lake you will come to another trail junction where you can continue up to Lily Basin (#86) or down along Jordan Creek (#95). To continue on the loop, take trail #95, and begin the gradual descent.
When we hiked here our backcountry campsite was pretty isolated, but sound carries in Goat Creek basin. I'd read a hiker's quote that backpacking on this trail is a little like car camping. We realized what that hiker meant that very evening when we were watching the sun set over a ridge. To our left, we heard our "neighbors" entertaining themselves with a harmonica, and on our right someone's dog barked every time a hiker passed their campsite, which was often. It's fine, just don't be expecting solitude unless you do this hike the second the snow melts.
More information: Cowlitz Valley Ranger District, (360) 497-1100
Check trail conditions on WTA's Trip Reports.