Even a professional cheap sleeper needs a little glamour every now and again.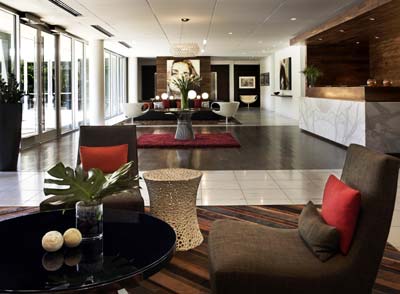 The thing is, I could get used to this! Ever since my family spent a recent night at Portland's
Hotel Modera
downtown, I have daydreamed about moving in!
For starters, the rooms are beautiful. I love the color palette – soft oranges and maroons with dark wood and crisp white linens. The lines are modern, but the mood is warm. Bold and engaging artwork hangs throughout the hotel, from the lobby to the guest rooms. And the best part is, none of this high style comes at the expense of comfort. Atop the beds sit several of the best down pillows in the world and comforters to match.  Spa robes await you in the closet, and an IPod deck sits beside the bed.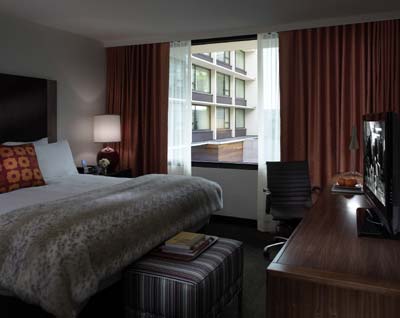 So, I know what you're thinking. "Why am I reading about this luxury hotel on Northwest Cheapsleeps??" It's unusual to find such luxurious accommodations for under $150 a night, and a total treat when you do. The Hotel Modera is simply a great value.
Why the deal? My guess is the recession continues to take its toll on local tourism. Rooms at the Modera weren't this affordable just one year ago when it first opened its modern glass doors. I'll bet if the economy and tourism start to tick upwards, so will the room rates. The time to go and treat yourself to a stay here is now, when you can snag a room like ours for as low as $89 a night.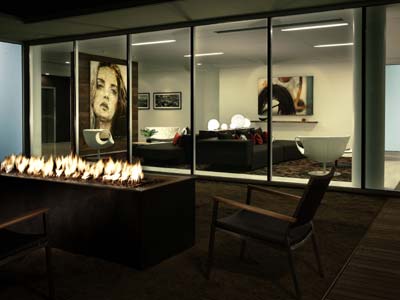 We had a king bed room on the fifth floor, with a territorial view of the patio gardens in the courtyard. The huge window brought the outside in, but the drapery could give instant privacy. When we arrived, I was feeling tired and a bit cranky from a day full of shopping and toddler-chasing. My first task was to decide how best to unwind – an hour surfing on the flat-screen TV or in the marble-tiled bath? I opted for the bath, along with a glass of pinot noir made in the Willamette Valley just upriver. It was heaven.
One downside to the Modera is that valet parking is $20 a night.  My suggestion is to skip the car altogether and enjoy Portland via its awesome transit system. But if you have to drive, you'll find a better overnight rate at a nearby lot.
One more thing. I've suddenly discovered the joys of bellhop service when traveling with kids; another thing I could get used to!  The Modera was a fine to stay with a toddler, from the convenience of the mini-fridge tucked away behind a cabinet door to the location, just on the edge of Portland's walkable downtown and a short train ride away from Washington Park and the zoo.
Info: Hotel Modera
  |  (503) 484-1084  |  map