One of the coolest things about living near the water? Getting out into it.
In much of the Pacific Northwest, our cities and neighborhoods are literally surrounded by sparkling bodies of water—rivers, small lakes, large lakes and even a big, beautiful saltwater sound. And while all this water is lovely to look at, it's even more fun to paddle in.
Below are some newbie-friendly day trips that'll have you paddling a kayak or canoe on our local waterways, seeing our aquatic cityscape from a new angle–the water.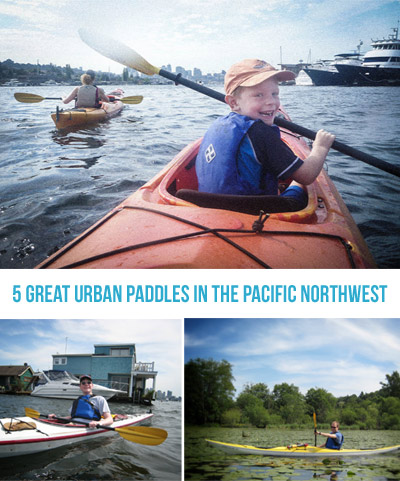 Spot Houseboats on Seattle's Lake Union
In the middle of Seattle is a big, beautiful lake ringed with funky houseboats and city parks, including the emerald hilly jewel, Gas Works Park. From your kayak (rent them and all the equipment you'll need from Northwest Outdoor Center in the Westlake neighborhood) you can paddle around and give yourself a tour. The experienced staff at Northwest Outdoor Center can give you a quick lesson on how to paddle, steer and stay safe on the water. Watch out for the float planes!
Paddle Around Nature at the Washington Park Arboretum
One of our favorite sunny day excursions in Seattle is to pack up a lunch, rent a canoe from The University of Washington waterfront activities center (WAC) ($12 an hour) and then paddle over to the Washington Park Arboretum. There are marshes you can paddle in here that are full wildlife like ducks, herons, turtles, and bald eagles.
Explore Bellevue's Mercer Slough
Rent a canoe or kayaks at the Enatai Beach Boathouse and paddle from there into the Mercer Slough, an amazing urban wetland complex. Even better, go on a half-day guided canoe trip with a park naturalist from here into the Mercer Slough for just $16 each (or $18 for non-residents of Bellevue, Saturdays and Sundays, May – September, 8:45am).

Kayak the Willamette
The best way to see Portland's bridges is to paddle right under them. Rent a couple of kayaks from Portland Kayak Company on Macadam Avenue ($14-$22 / hour or $60-$90 for the whole day) and launch into the Willamette River right there. Your choices include paddling up the river towards downtown, around Ross Island, or across the Willamette to explore Oaks Bottom Wildlife Refuge.
See Victoria's Inner Harbour… from the Harbour
Rent your kayaks at Ocean River Sports in Victoria BC, then set out for a tour of the inner harbour, where float planes land, foot ferries zip around and seals play. You'll have the best photo op of The Empress Hotel from anywhere. Here's a fun idea: pack some scones and a thermos of Earl Grey and have Afternoon Tea out on the water.
photos: Kayaking Lake Union and the Arboretum by Jeff Wilcox, child in kayak by B. Dewey, canoe in Mercer Slough by NWTripFinder.