Not everyone digs sleeping in a tent under the stars. And even those who do dig it might want a break from it every once in awhile.
I recently got an email from Caroline, an avid hiker on her way to Washington state from Arizona who is looking for an inexpensive "basecamp" around lots of great hiking trails not far from Seattle. By basecamp, however, she means a roof with four walls: "It's my vacation, and I don't want to camp. I want to shower after my day hikes, then curl up in bed with a good book by the fire. Any ideas?"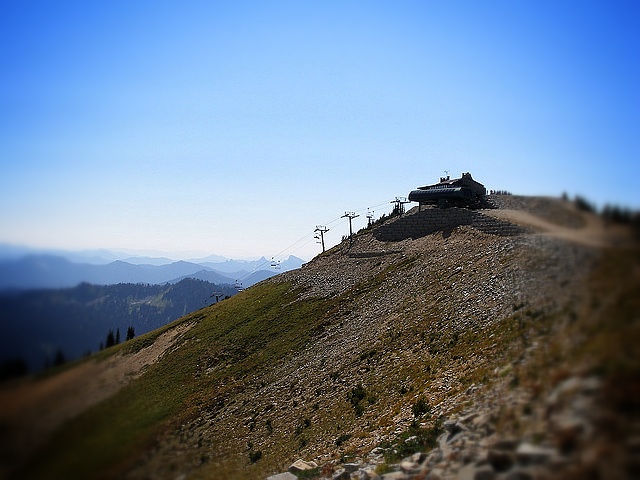 Where to Sleep
How about Crystal Mountain Hotels' Alpine Inn, just on the north side of Mount Rainier National Park? I stayed a few nights there last summer and enjoyed fabulous off-season rates (off-season here is summer; its a ski resort, after all). Simple but comfortable rooms are loaded with rustic Bavarian charm, and the hotel has a restaurant, deli, and the Snorting Elk bar downstairs, where you can enjoy a tall stout by the fire after your hike. Best of all, the setting is delightful, surrounded by mountain peaks and meadows of wildflowers. Summer rates for a double are ~$85, and this includes breakfast.
Where to Hike
The great hiking in the vicinity is endless. Spend a few days here and hit two or three of the hiking trails.
Now snow-free is the gorgeous Crystal Lakes trail (6 miles round trip, 2300 feet elevation gain), a steady but worthwhile climb through old growth forest up to open alpine country and two delightful lakes, at which both elk and mountain goat make a home.
Also nearby is Noble Knob, 7 miles round-trip and only 500 feet elevation gain, offering a gentle ascent to high alpine meadows and nice views of Mount Rainier.
Just on the east side of Chinook Pass is the Naches Peak Loop, a short and sweet day hike at 4.5 miles round trip and just 700 gentle feet of elevation gain, offering many fine wildflowers and still more views of the mountain.
Happy hiking, and enjoy that shower and soft bed!