Try to find a place to stay in Seattle or Portland, besides a hostel, for under $100 a night. Just try.
The good news is, city cheap sleeps are out there. The bad news? There are literally only a handful of them. There's the White Eagle in Portland. Seattle's College Inn. The Ace Hotel in both cities. And… a few bed and breakfasts that will do quite nicely.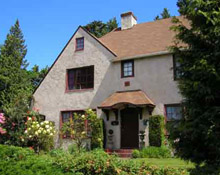 Visiting Seattle?
Tucked away in a fabulous part of West Seattle is Wildwood Bed and Breakfast. Their sun room, rose room and garden room are all under $100 / night and are on the 2nd floor with shared baths. Wildwood is attractive not only because its a great deal, though; it is on a bus line to downtown, steps away from an excellent bakery and good restaurants, and a stone's throw from the Fauntleroy ferry terminal, Lincoln Park, and Puget Sound. Give them a call at 1-800-840-8410.
Visiting Portland?
Try the Hostess House bed and breakfast, located off Killingsworth, east of Portland's Alberta neighborhood and south of the airport. The mid-century house in a quiet neighborhood may not look like much, maybe not like a traditional, old-fashioned B&B, but it garners fabulous reviews for its homey comfort and sincere hospitality. The two rooms are $75 single / $85 double and have private baths, soft cotton robes, bike storage, and plenty of privacy. A large deck overlooks the garden. Children are welcome. 1-800-760-7799.