I have cabin fever. No, not that kind-the other kind. The kind where you're crazy for cabins.  I'm crazy for cabins – cedar walls, steaming cups of cocoa, cozy fires, wool blankets. Love them.  First, I told you about staying at my friend's cabin in Winthrop. But we couldn't stop there. No, there was another. In fact, there are probably many cabins to come.
First, I don't want to put forth the notion that renting a someone's vacation cabin is a hassle. There are many ways to do it, through websites like Central Reservations, HomeAway, and others. You can also arrange a vacation cabin rental through individual websites, like this one for the 29 Pines Cabin near Lake Wenatchee (I've stayed there, and it's nice). There are drawbacks, though, like two-night minimums, steep cleaning fees, or reservations that must be made way in advance.
Sometimes, you just want a quick, hassle-free, fun cabin getaway for under $100 a night. We know the feeling. That's why we love the Grace Haven cabins near Marblemount, just off the North Cascades Highway.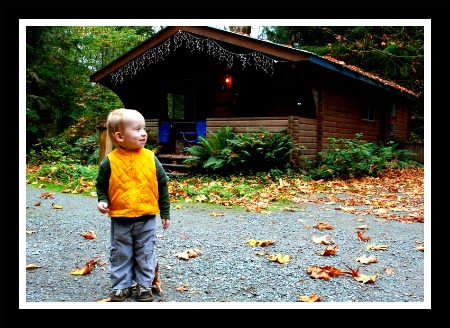 Until just a few years ago, Grace Haven was under different ownership and fondly known as A Cab in the Woods. Maybe you remember the bright yellow taxi cab that once hailed you from the side of the road. Even though the place changed ownership and its name in recent years, the cabins are still there. And we're happy to report, they're still fantastic. (As you can see in the photo above, Isaac agrees.)
Grace Haven cabins are nestled in the Upper Skagit Valley, the gateway to North Cascades National Park.  It's a great destination in any season, whether you use it as a base in the summer for day trips into the park, or in wintertime when a plethora of bald eagles flock here to fish for salmon in the Skagit River.  It's also a fine place to just hunker down for a night or two, cooking your own meals in the brightly-hued full kitchens, and relaxing by the gas fireplace.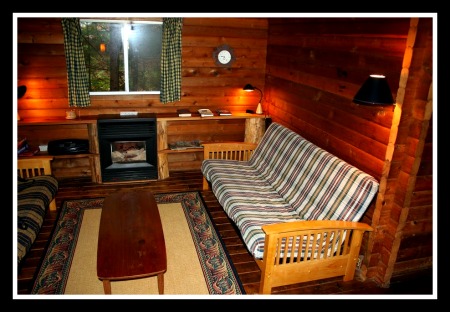 If the name Grace Haven sounds vaguely religious, it's probably because it is — a big cross greets you at the front of the property, and the place is sometimes used for Christian retreats. In addition to the board games and magazines provided in each cabin, there is now some Christian literature for your perusal. Whatever your religious persuasion or lack thereof, be forewarned. Honestly, I didn't find this to be much more intrusive than finding a Bible in the drawer of a hotel.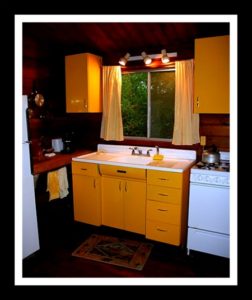 Each of Grace Haven's five cozy color-coded cabins has a fully-equipped kitchen, living room with futons and a gas fireplace, and a separate bedroom with a queen-size bed. The bathrooms are nicely refinished with cedar-lined showers (one cabin has a bathtub). There's a coffeemaker, and a kitchen table to drink your coffee at. Each cabin is stocked with complimentary coffee, tea, hot chocolate, and apple cider.
The charms extend outside the cabins as well. Like to grill? Each cabin has a charcoal grill and picnic table just outside. The grounds were designed with family summer vacation in mind–there's badminton and volleyball, a horseshoe pit, swingset, croquet and ping pong. Rest between bouts in the hammock, or toast marshmallows at the outdoor firepit. Pets allowed at two of the cabins ($10 / night per pet).
Grace Haven's cabins run $85 winter / $95 – $120 summer. Stay two nights and get a third night free (some restrictions apply.) There are many places to eat in nearby Marblemount, but with the fully-equipped kitchen and cozy fireplace to eat beside, we saw no reason to leave.