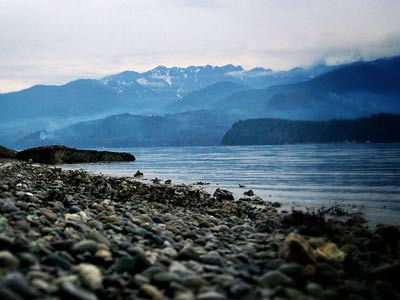 Never heard of this Washington State Park and campground? Some of the best-kept secrets are that way for a reason, and in the case of Scenic Beach State Park, it's simply far enough off the beaten path to fly under the radar.
Located on the upper arm of Hood Canal's eastern shore near Seabeck, Scenic Beach State Park's 52 spacious campsites (sorry, no RV hookups) are nicely strewn across an upland Doug fir forest with an understory of colorful wild rhododendrons (come in May for the showy bloom). As you can imagine, the view across  Hood Canal to the snow-capped Olympics is sublime in May as well.
The beach of gravel is a favorite resting spot for harbor seals, and that's not all you'll find there. As with much of Hood Canal, a shellfish harvesting license will come in handy should you want to forage the beach for your oyster dinner. The legal minimum size for oysters on all tidelands is 2.5 inches. Small Olympia oysters often attach to Pacific oyster shells, so be sure to shuck all your oysters on the beach and leave the shells there. The only equipment needed to collect them are sturdy gloves to protect your hands and a bucket. More information on oysters is available here from WDFW.
This state park is set on a former resort property, and the historic home still stands and is reservable for weddings and parties. In all, the park is 88 acres in size and has 1,500 feet of saltwater Hood Canal beachfront.
Contact: Scenic Beach State Park website | Campground reservations
photo: Scenic Beach State Park by Michael @ NW Lens